Smethwick Music Workshop 1984
participatory music at the Red Cow and several other places…
The Red Cow is a popular pub on Smethwick High Street. As long as we can remember, it has always had a life-sized red cow on a plinth outside. I has been used a venue for several types of events, by Jubilee and other organisations. Rock Against Racism gigs, a performance by a 15 piece Parisian folk group Passacaille, a benefit night of poetry and songs to support the Raindi Strikers, meetings of the Indian Workers Association… Then one Saturday night in January 1984, the upstairs function room was packed solid for a singular performance by a group of musicians (and a few non-musicians) who had never played together live before, who had only met six days before in a community centre on the West Smethwick estate AKA The Concrete Jungle.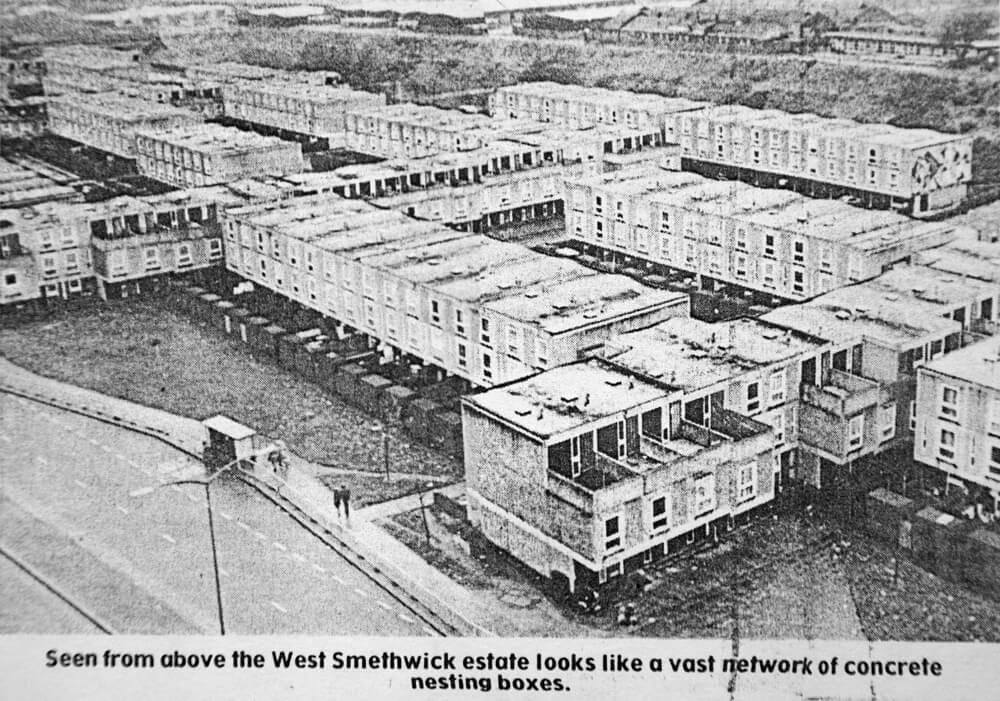 The West Smethwick was quickly built from in the 1960's to deal with housing shortages, using the Bison industrialised building system of precast concrete. Hemmed in by a dual carriageway, the railway and the motorway, the estate became known as an area with a large number of social problems lacking any amenities. It was 'a kind of no man's land', as described by the Director of Community Links, Jim Austin. Community Links began life as Home-School Links in 1974, to develop links between home and schools in the area, identify problems and work with residents to seek solutions. Jim, a former teacher, was keen to use the arts in the work in West Smethwick. He knew the work of the Jubilee group, as the Spon Lane playhut had been used for theatre and playwork, and he had joined their board of management. In 1977, the Housing Department donated one of the empty houses on the estate so Home-School Links could be based there. They produced a local community newspaper called 'Gerrof' and had secured funding that year for a full time community artist to work with them. Harry Henderson, who had previously worked at Trinity Arts in Birmingham, and also with GASP (Group Art Spectator Participation), developed a number of programmes on the estate. They created murals on passage walls between the estate blocks, organised a portable cinema touring locally to schools and in 1979 relaunched themselves as Community Links, also establishing an independent community association. They operated a photographic darkroom out of Nelson Court, working with Jubilee and by 1983 had built a new community centre at the foot of the tower blocks, Sandfield and Malthouse, utilising an abandoned carpark.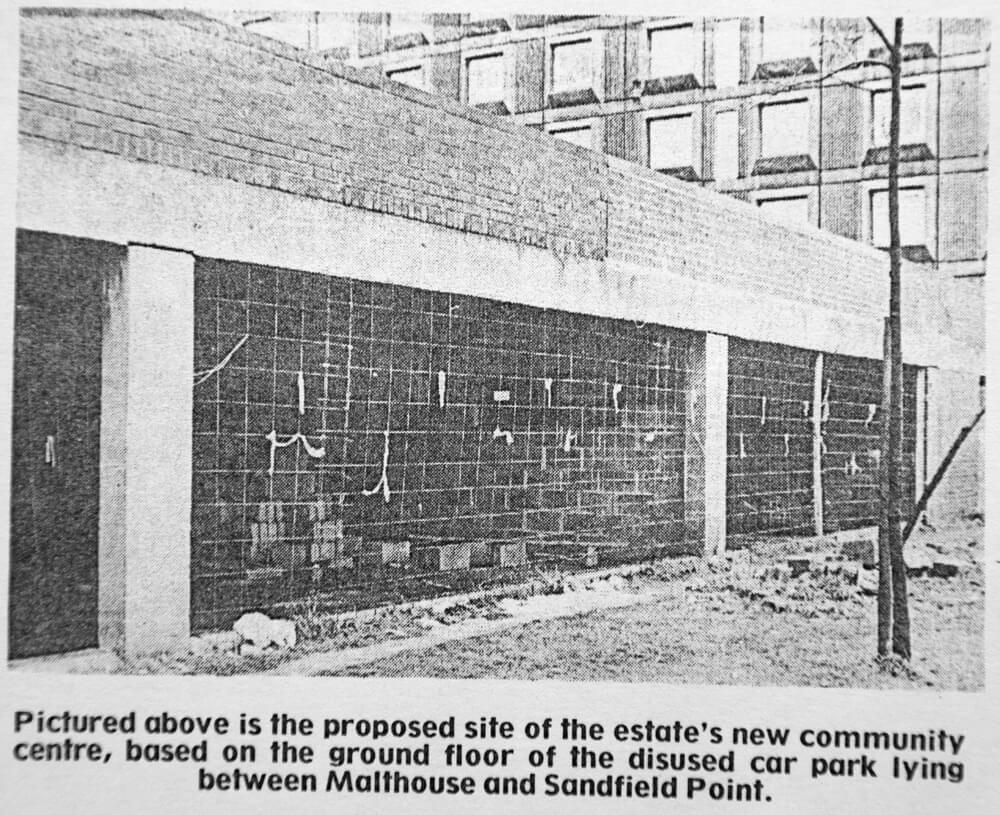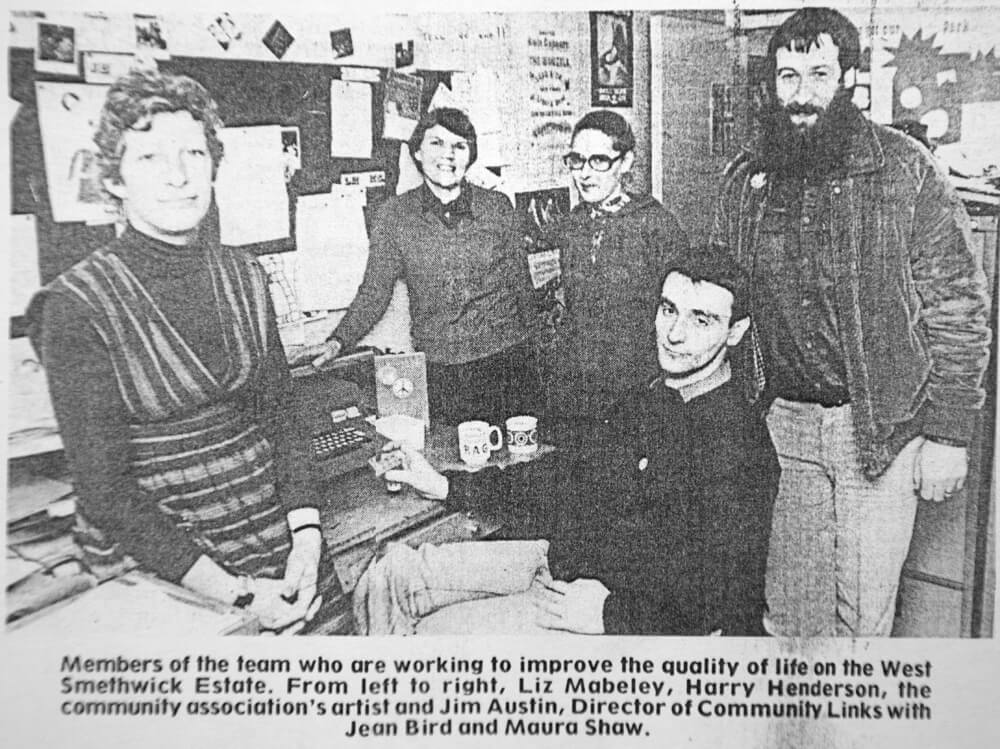 This became the venue for the music workshop, as Harry (who played a bit of acoustic guitar) was keen to expand the portfolio of arts activities. The project was a collaboration with Jubilee, who were working with Cultural Partnership on developing a local Fireshow which would have a band, so this was an opportunity to test the waters and recruit interested local musicians. With Louis O'Neill as our tutor, the workshop was planned to explore different repertoires, styles and ways of making music. While musicians with some ability were at the core of the workshop, open sessions were planned in order to recruit non-musicians – "If you can learn a couple of notes, make some noise, bash a percussion instrument, you can participate." It was set up as a training programme, an intensive workshop designed to introduce musicians of varying skill levels to community arts techniques – this included open workshops for children and young people to put ideas into practice. Louis was our guide – brilliant at organising, mentoring and music making. That first music workshop week attracted around 30 participants, all with very different styles of music making – whether, rock, punk, blues, folk, funk. Over six days they created a whole series of original genre crossing songs, which were performed over 90 minutes at the Red Cow.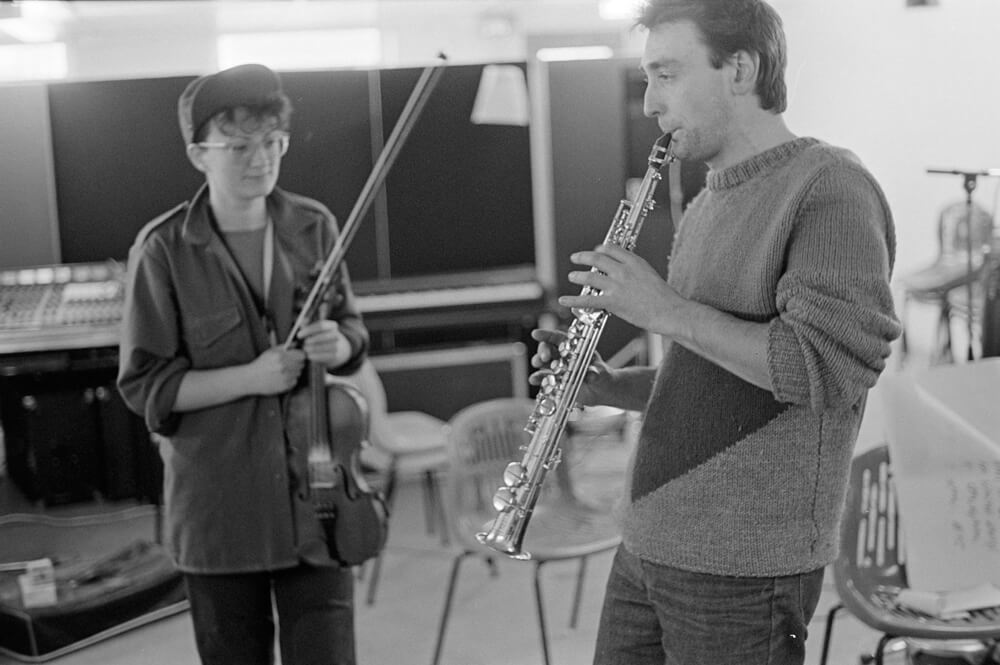 The participants then went on to perform at the May Day Fireshow in Victoria Park in May, devising a whole new set of material. As well as continuing to meet weekly at the community centre, members of the workshop also provided the backbone of a barn dance band for Jubilee Summer Celebrations in subsequent years, and participated in several festivals and events, including an annual showcase 'Soundstage' at the Sandwell Show. They were also booked for social events across the borough and were invited to participate in workshops with Cartwheel Community Arts in Rochdale for their November Fireshow. The workshop went onto run recording sessions at the community centre, to give an insight into techniques in recording a song and to explore the roles of technology and producers.
Members also went on to take up training placements with specialist music projects around the country and established a women's music project, among several other projects and shows.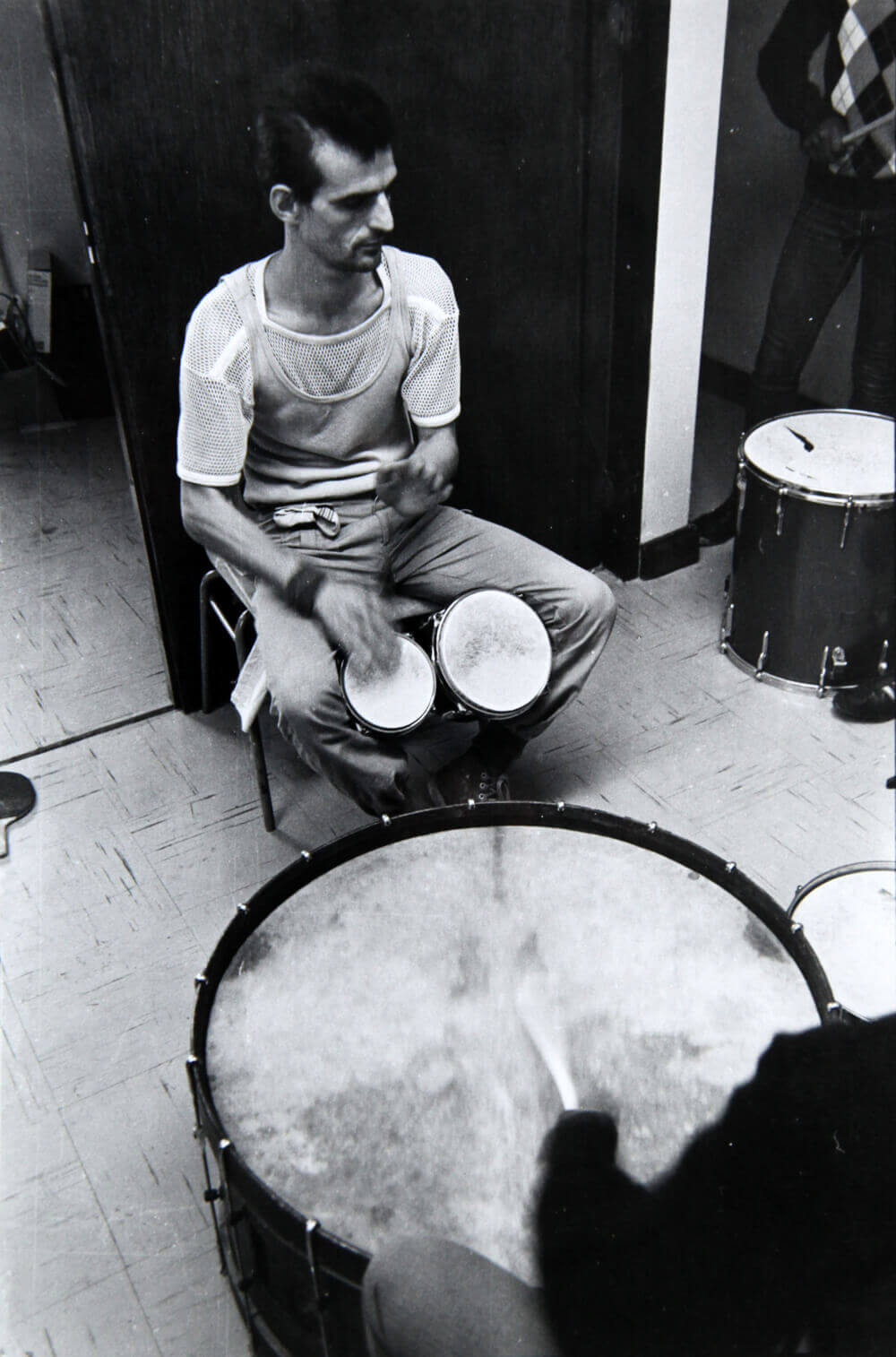 Ron Collins was a musician who participated in the first workshop week, becoming a gospel singing preacher man for the gig at the Red Cow. "I remember being involved in other workshops at Jubilee, when they were promoting a live music programme – Bolivar, the Latin American one, and the African one, Taxi Pata Pata. What I gleaned from those was feeding back into Smethwick Music Workshop.
We used to meet up a couple of nights a week in the CAWS community centre and get the equipment out and various people would participate. We'd put on events in the building, and we'd also take it out to a few different places. I think Jubilee at the time were trying to break out from being a group using the visual arts, and we helped do that, working with young people and older ones, playing music. We'd then feed into their other work, like the summer festivals. With Pete Yates we created the dance band for the barn dance at the Community Celebration events. That was nice for me, also creating the music soundtrack for the shadow shows, improvising in that way, the need to be spontaneous. I miss that.
It was political, taking stuff to people, making people aware of something that might be their heritage actually, pointing things out. You're keeping an eye on being multicultural as possible or necessary and as a part of that acknowledging your own heritage. This is something that still informs my personal life now."
"The workshop had a fusion of music. World Music was what they were starting to call it – but it's funny how people with Scots or Irish ancestry like myself are much more aware of their folk heritage than the English are of theirs. My particular skills, voice and percussion, going back in time, are the universal things people would have come up with before anything else, banging on rocks and logs before drums were fabricated and they would be vocalising. That was the precursor to any invention of instruments. That was the luck of my musical skills because I've found it's easy to engage whatever group on that level; if you get into a guitar or keyboard then people have to put in the work, have to practice, and get up to a standard to share with other musicians and build a community around you. And you've all got to operate on an understandable level. Once you're into that realm, then you're beginners and intermediate and super duper musicians. With vocal and percussion you can demonstrate the foothold that anyone can get into music making and sing about things that concern your community.  We kept an eye on being as multicultural as possible while acknowledging your own heritage. It was inspiring."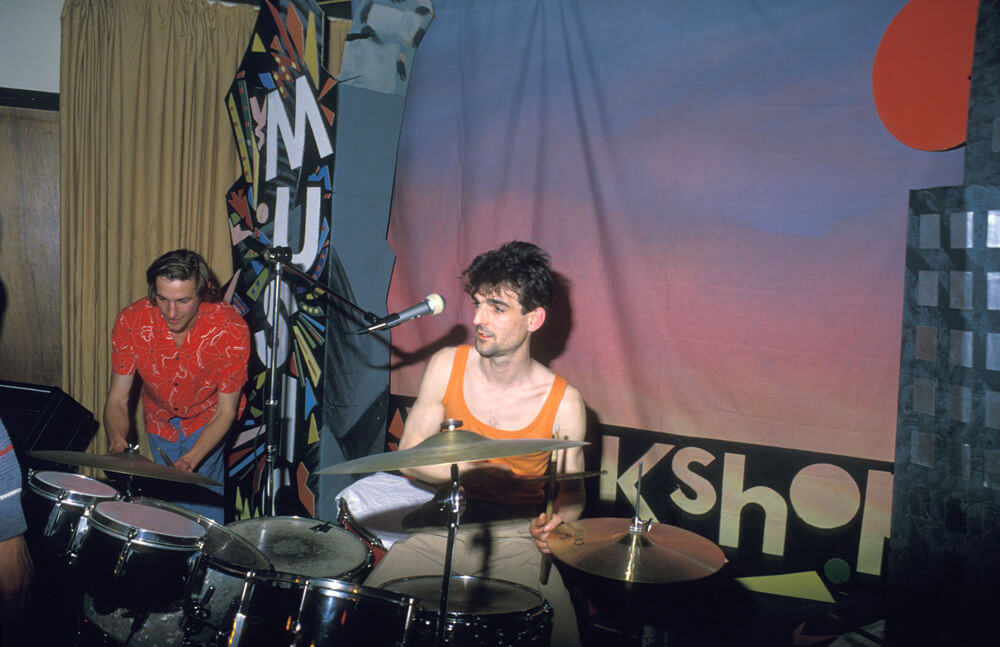 "A lot of the songs we did related to a theme, whether it was housing or whatever. That was one of the joys and pleasures of it. You were working to a brief. It needed to be informed by community issues. You wanted to address an issue with a song. It wasn't just 'Oh baby baby, shake your booty aha la la blah blah blah'. I was open and my tastes were broadening. It informed my practice for a long time. I'm sure I've been marked, not just with music, by this idea that you can enlighten someone to a skill they haven't got, or to let people know that this is possible, even if you thought to yourself it wasn't possible."
Some documentation from the first workshop week at the Community Association of West Smethwick and the night at the Red Cow.