Taking the lessons learned from the 1984 May Day Fireshow, Jubilee adapted its summer festival programme to create a series of special one day events, which combined spectacular elements to engage with the community. Previously Jubilee had run one week themed events – for example, 'Rock'n'Roll Week' at Charlemont Farm, 'Dungeons & Dragons' in Oval Road, Tipton, or 'Around the World in 8 Days' in Brades Village. After four years of the Bus Project, demand and expectations increased (if not resources). The ground was shifting, as Kate Organ recalls: 'There began to be some sort of agreement/contract where we'd go and do something bonkers in one day, whereas the usual pattern of the 70's was to do a week in one place. But by the 80's, which is interesting in itself, we were being asked to do these incredible things in one day, like Margaret Thatcher inventing how to make a Mr Whippy ice cream go further go further with more air in it. The thing about a week is you built up relationships you went back to. The street theatre followed by the playscheme was the way into working with the adults on an estate. That was the end game. You couldn't do that in one day. That would be just a bit of fun for the kids for the day, wouldn't it? I think there was a definite political change by the 80's, when no-one at a council level wanted you to be really making alliances with tenants groups or trade union groups, who were likely to be campaigning."
Jubilee's solution to this conundrum was to consider the one day events as 'casting the net', creating a fantastical event while still making new networks and relationships, and to build capacity by using these events to bring in new artists and offering mentoring opportunities. With a team of artists and volunteers, they would spend the morning and afternoon working with local kids and parents (if around), divided into groups making lanterns, music, shadow puppets, banners, decorations and miscellaneous props which provided the ingredients of a evening performance, along with barn dance and barbeque. In August 1984, they visited Bermuda Mansions, Oak Road Park, Brades Village, Mesty Croft, Tibbington, Balls Hill, Lion Farm and Cradley. Each subsequent edition expanded the venues (to also include Dudley) and the delivery teams. The teams were also supplemented by members of youth groups from their other workshops and programmes, offering them training to enable them to deliver sessions.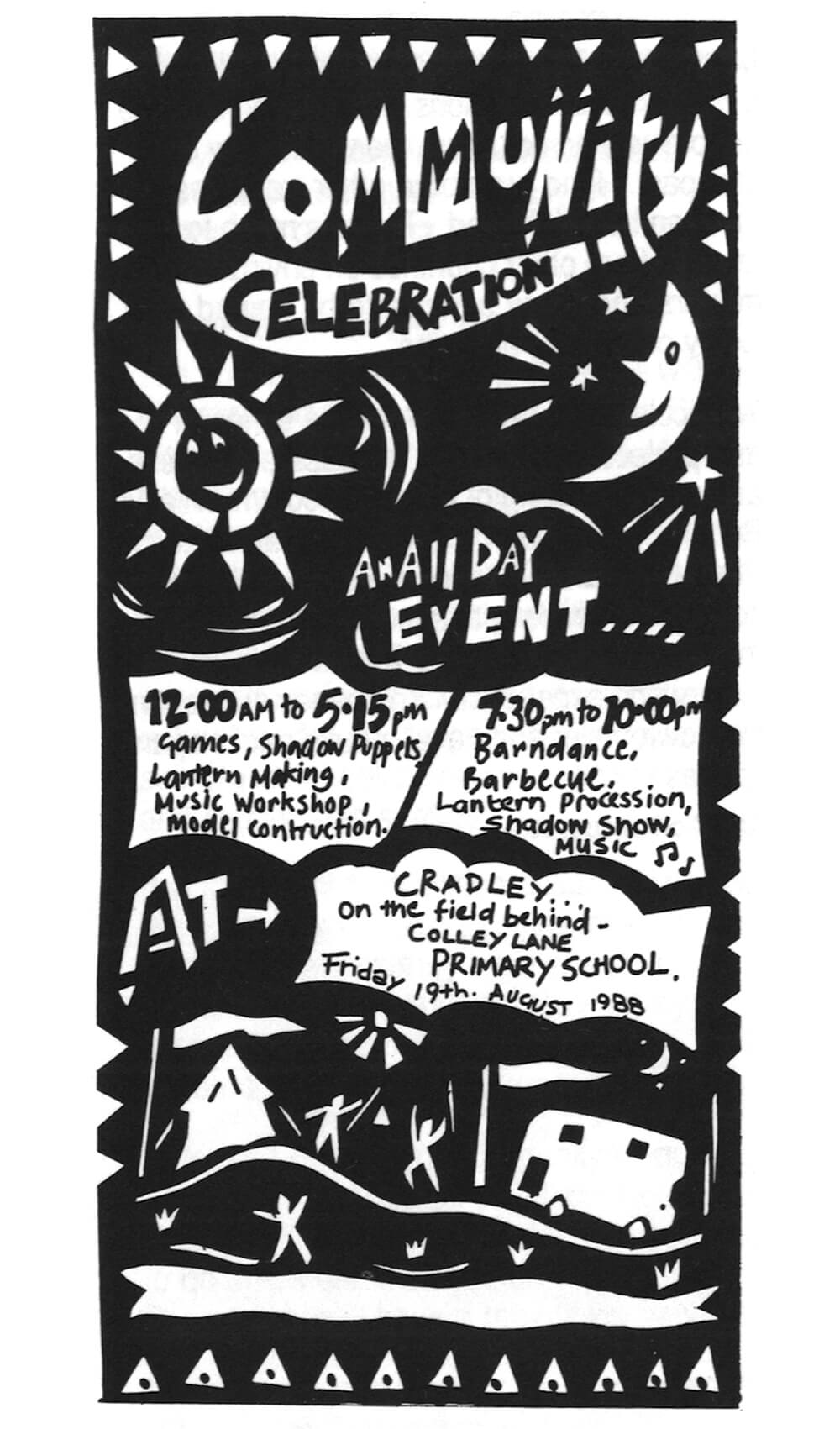 Tony Stanley's Notes 1984
9.00 am Load bus, PA, lights, generator, video, water, ice packs
10.00 am Set off. Quick meeting?
11.00 am Arrive at venue. Set up décor, bus canopy, flagpoles, shelters, shadow screen, banner frame
11.30 am Workers engage kids in games and in set up of area (erecting marquee)
12.30 pm Meeting/everyone. Explain the day activities. Have contracts ready.
12.45 pm Split kids into groups – lanterns, music, shadows, banners, props, vid, toddlers
1.00 pm Start work – 4 hours. Sign (kids) contracts
5.00 pm Stop work. Send kids home
5.15 pm Break/food. Rest, discuss how day went.
6.00 pm Meeting – sort out who is doing what
6.15 pm Set up evening. PA, lights, hang banners. Barbeque. Tidy away activities.
6.30 pm sound and light check
6.45 pm Light barbeque
7.00 pm Caller arrives
7.30 pm Evening starts. Dancing, bar-b-q. Kevin introduces event..
8.15 pm Lantern procession leaves
8.30 pm Stop the dance. Enter shadow storyteller.
8.45 pm Procession arrives back. Locate by band.
9.00 pm Shadow show begins. Soundtrack from band and kids orchestra.
9.15 pm Barn dance resumed.
10.00 pm Final song.
10.45 pm Leave site – return to base. Unload valuables.
Nineteen year old Peter Singh, who was volunteering at the darkroom in West Smetwhick, kept a record of the 1984 celebrations. Here it is:
'It was Wednesday, another boring day, except for one thing. It was the start of Jubilee's community festival events. I was the Community of West Smethwick in the morning. About 3.30 pm I went home for something to eat and at 6.30 pm caught the bus to the Yew Tree Estate where Jubilee had pitched up their tent and the music equipment was out and there was about 10 helpers including the workers. Then they put up the screen for the puppets and it was about 8pm and the Crazy Spades came on and did some breaking and body popping and the crowd enjoyed that because that is the craze at the moment. There is one difference, the Crazy Spades got other people to join in. When they had finished Kevin came on and got the barn dance going again. There were a couple of people that were too shy to come onto the floor. When he got about 30 people on the grass he showed them the moves. Some dropped out but the people who stayed on were really enjoying themselves. Kevin finished about 9.15pm then the other band came on. They had already rehearsed. Ken and Len had learned them how to play things in the afternoon. They walked around with the ace lanterns that were made in the afternoon as well and they had a procession all around the flats. Then they walked to the screen and the puppet show started. The puppets were made by the kids earlier. It was really ace. After that Kevin had another barn dance to end the night, then we just put the stuff away but people hung around the barbeque for a long time.'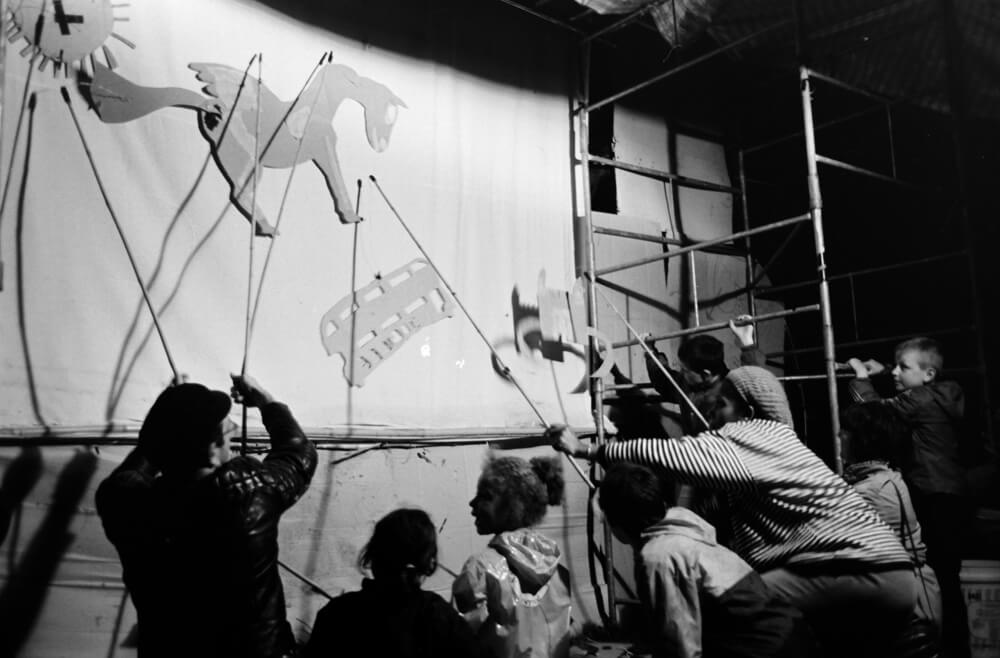 'On Friday everyone at C.A.W.S had gone to a trip to Tycross Zoo so I went to Jubilee to see what they were doing. They had another event so I helped them pack all the stuff into the big bus and when we got to the Oak House in West Bromwich and about 12 pm we put the tent up and put up the poles. The girls group were playing with the younger children and the Breakers were playing with the older people, and one of the older people started to laugh at one of the kids that were trying to learn. Mac, one of the breakers, said "If you can do better come and do it" but then the older kid ran away. Anyway, at about 1pm the kids got together with Jubilee Community Arts and decided what they wanted to do. The girls took the children under 6 to do some drawings and Tony Stanley took some people to make the puppets and the theme was monsters who haunted the Oak House. Ken, Len and Chris took some people to make Monster Music. Chris did not have any problems with this because he is a monster. Peter took some people to make lanterns. About 6pm we had finished, had something to eat and the Breakers came on with Kevin done his barn dance and the music came and the lanterns went round the park and then there was the puppet show and Kevin with his Barn Dance again to end it. You probably think it was the same as the other one. Well, I noticed something. This had more of a mixed community and they got on really well together with the English people, Asian and Afro-Caribbean people, all barn dancing.'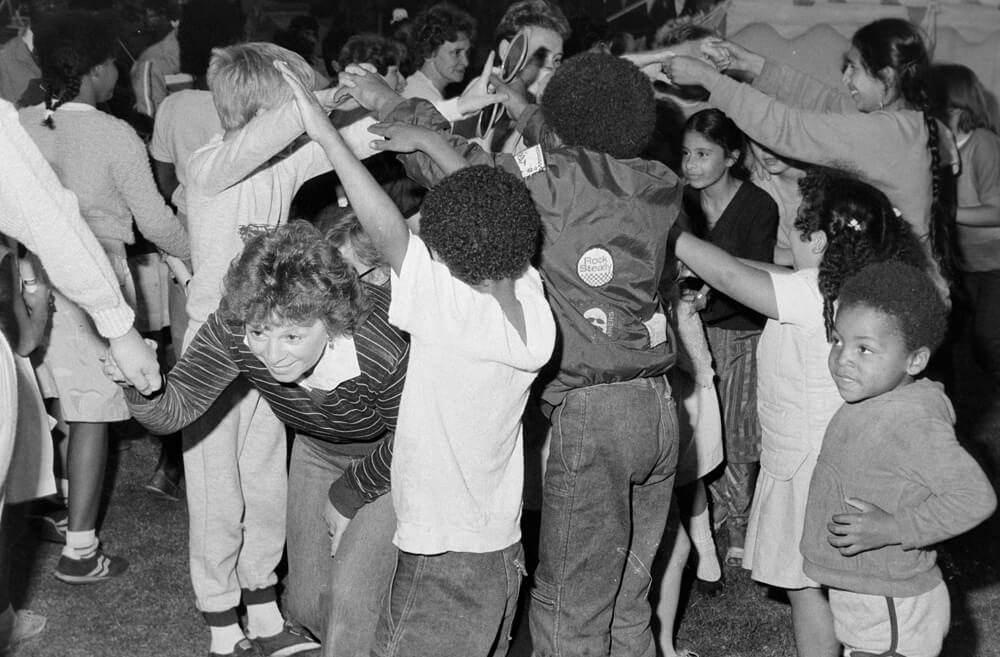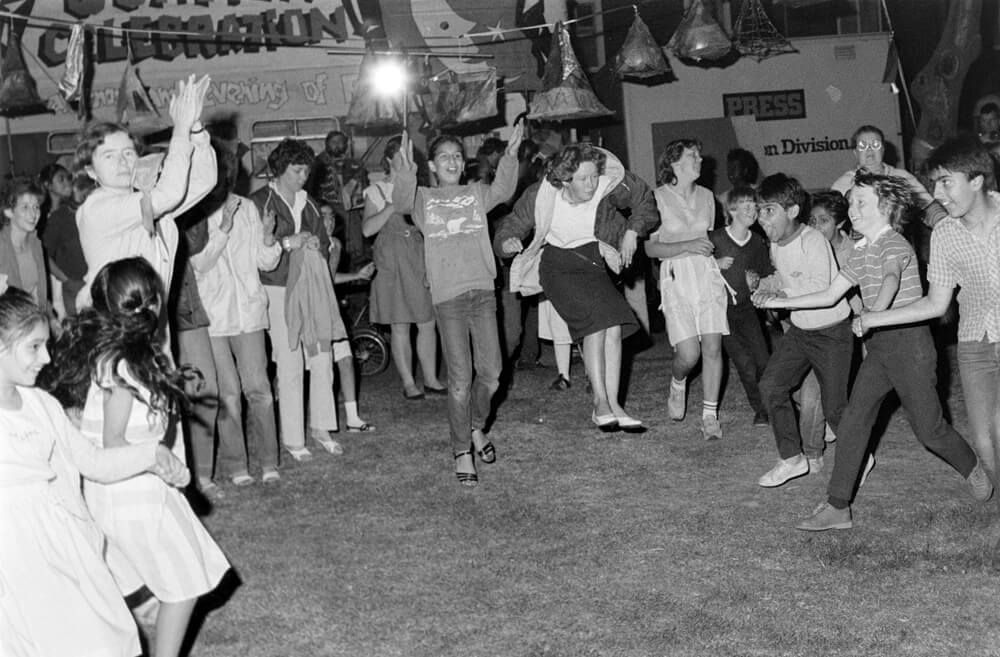 'On Sunday there was one at Brades Village. We done the same thing as the rest but this one did not really have enough people. Then we decided to walk round the houses saying come to our event in Brades Village and Chris shouted out where it was with a megaphone. I met three girls and they asked me "Don't you feel like a prat carrying that around?" and I said "Yes." They came along and said, "It sounds like kids stuff." I said, "On the night we got a Barn dance and some Breakers" and when they heard the word Breakers they said "See you tonight" and they came. When we finished, Brendan said, "I seen you chatting up them girls." You can see that is all he thinks about.
On Thursday I went and helped them set up tent at Mesty Croft and we done lanterns and puppets and had to stop at 5.50 pm because it was raining, a thunderstorm. We also done Tibbington, Tipton, Balls Hill in Wednesbury and Lion Farm Estate, that one went really good. I really hope they have one next year."
The 1984 celebrations were nearly curtailed with the loss of the original Bus in a fire. A second and older bus was brought in for the summer, and the following year Jubilee acquired a larger more modern bus to continue their mobile work. With an interest in photography, Peter Singh volunteered at the darkroom at C.A.W.S and went onto to develop 'The Golden Mile' project, which you can find out about elsewhere on this web site. In the 1990's he went to work in Bordeaux, where he still lives today.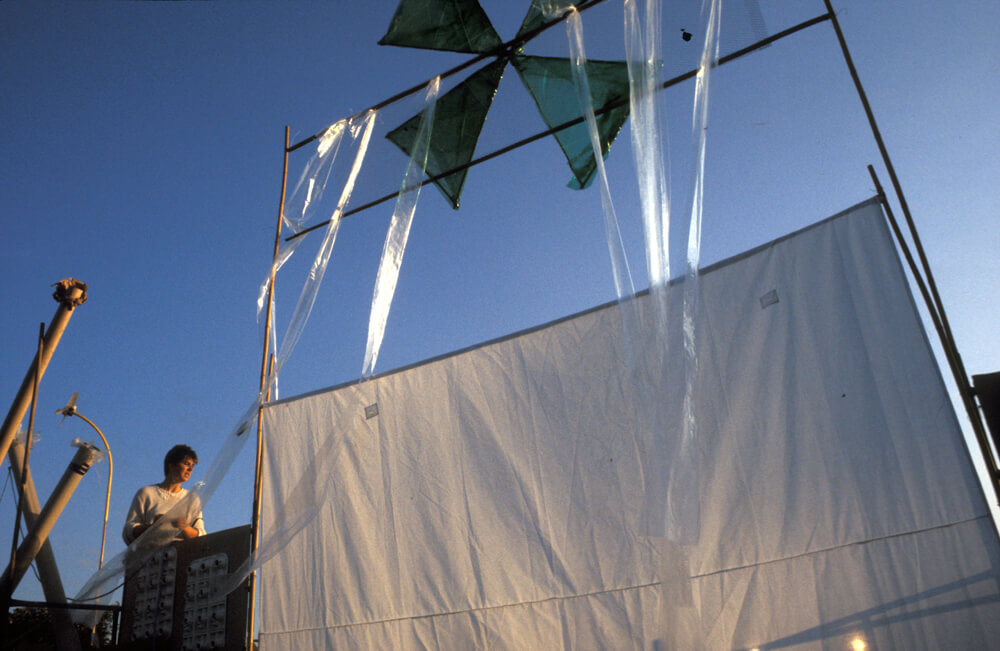 Cath March (then Fitzgerald) brought a different perspective. She came from a theatre design background, working in small scale theatre and T.I.E. and was also a pyrotechnician and puppeteer. "There was a range of activities which suited people of different dispositions. Your world extroverts could be as worldly extrovert as they wished and as a puppeteer the shadow play dimension is interesting because people who might not be confident performing upfront had what we call 'the safe distance' of puppetry. You have that double satisfaction, which got me into puppet making in the first place when I was 12, this idea that you have the making aspect and then the performing aspect. The puppets are a kind of a channel for energy and a great means of communication. Then there were people who wanted to work on decorative aspects in a completely non-performing role, with plenty scope for that with the bunting, banner making, and people who liked doing the food and the drink and the making sure everyone was having a good time, that care taking. There was scope for all of those things and all of the skills and attributes pooled really nicely from that initial magnet of the younger children's enthusiasm – 'Look what's here, look who's here'.
We were going in on this basis of giving it your all, but with this structure. At first I thought it was madness, this kind of random pitching in of ideas. I was thinking, Where's the storyline, what about timeframe? But if I look at Tony Stanley's information leaflet from 1984, it's so cogent. There's just what you need in there, no surplus, no slack. That was the magnet that kept me coming back and want to stay engaged in that kind of work."
Cath went onto to work on puppet shows in Sierra Leone around health education and then was one of the original members of the Community Arts Team established in Walsall in 1988-89, under Ken Bartlett.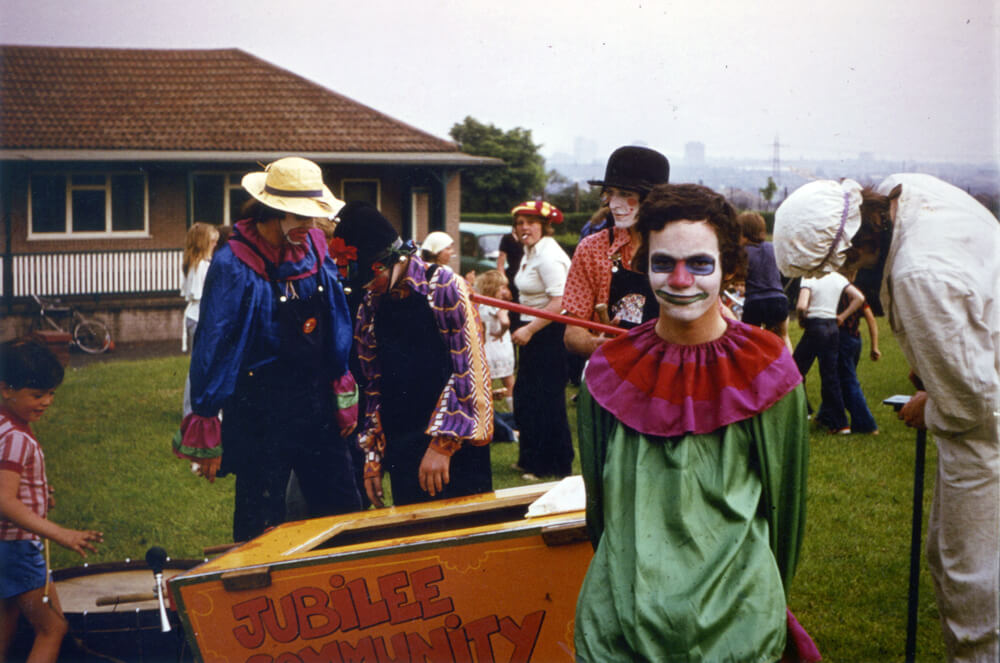 Although it appears the chap on the right is looking down at a mobile phone, they didn't exist at the time of this photograph. By the end of the '70's, these clowns would also soon be redundant.