Jubilee Arts was a unique community arts organisation based in Sandwell in the Black Country. This web site documents the period 1974-94, two decades of tremendous change. Locked away in the basement of West Bromwich Town Hall since the last century, we've dusted off the archive boxes, bringing them back to the light of day to share our findings here.
The last two shows with archive material at West Bromwich and Smethwick have now been derigged but you can find documentation on the Facebook page and we will be adding more material to this site. There's plenty to explore here!
Image of Week
From the archives we have selected a particular photograph to share with you, along with some thoughts from local individuals, our curators and participants. Perhaps never seen before, these images offer an insight into the Black Country and our changing lives.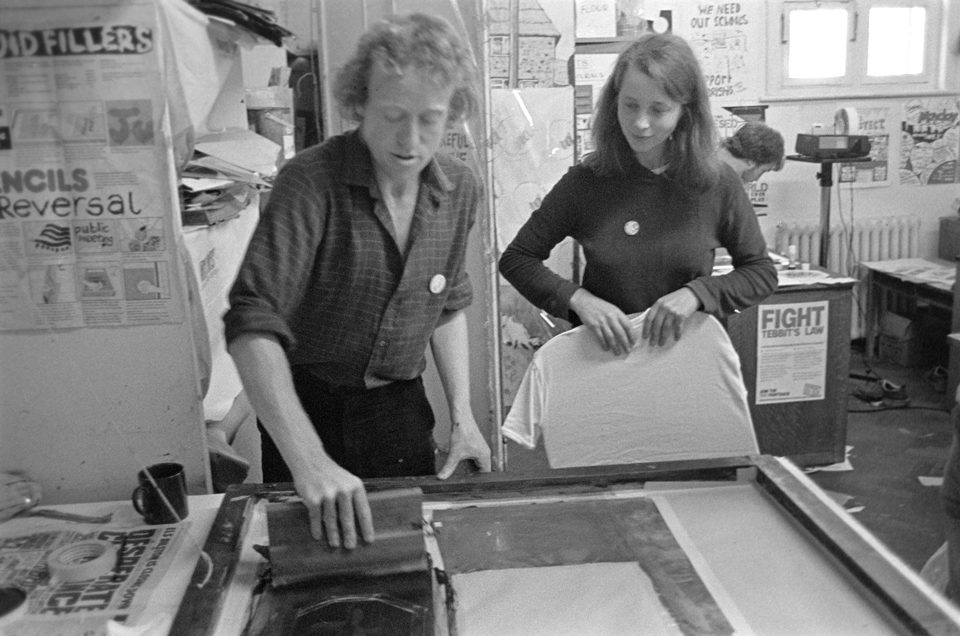 The visit of the 45th American President to the UK has inspired a great deal of dissent and protest, a particularly novel one being the Trump Baby Balloon – which recalls the spirit of civil protest that animated much of the early community arts movement. In the 1970s, Jubilee had a silkscreen press in its base at Farley Park Lodge in Greets Green, West Bromwich. Apart from being used on projects and promotion of community events, the silkscreen proved popular with local activists, who queued up to make posters and t-shirts for various campaigns. This picture shows John Smith (and his sister), who was involved with a Nicaragua solidarity group in the early 80s.
Cathy Mackerras was one of the original members of a sister organisation to Jubilee Arts. She recalls some of their influences. "Back then I was a student at Birmingham University, where Clive Barker was a lecturer. He had been involved with Arnold Wesker's Centre 42 project and with Joan Littlewood's Theatre Workshop and taught on my course. But my knowledge also came from France. As part of my studies, I had an exchange in Paris,  where I learned about the legacy of the maisons de la culture in provincial cities, created by the Minister of Culture Andre Malraux. People were calling this kind of arts work out there with the community, cultural action or cultural animation. After I graduated spent three months working with community projects in Montpellier, where theatre was being made with diverse groups of people, from Peugeot workers to immigrants to the unemployed.' Coming back to the Midlands, inspired by these experiences of seeing 'arts and culture in the hands of the workers', she was soon to become one of the founder members of Telford Community Arts. In this period, founder members of Jubilee had also studied these Drama and English courses at Birmingham.
Other groups in the Midlands, starting out in the early 70s – apart from Jubilee in Sandwell – were Saltley Print and Media, Banner Theatre, Trinity Arts over in Brum. There was also WELD (Westminster Endeavour for Learning and Development), based at a school in Wandsworth who undertook arts projects. The design and publishing group Sidelines, which involved Birmingham photographers Derek Bishton, John Reardon and Brian Homer, ran a community photography project at WELD.
You can find some background information on this period here on François Matarasso's website.
You'll find an interview with another member of Telford Community Arts here at: communityartsunwrapped.com 
In the spirit of the original arts group we returned to the original locations in the borough and worked with groups to explore and interpret the material. This has informed our choice of images to share. We've also made a selection of key projects to provide more background. Click on these below to find out more.
In the archive we came across some film material. Here's some footage from 1977, which offers a good introduction to the work of Jubilee at that particular time.
 "Whether you're a researcher, a history buff, a genealogist, someone interested in photography and the arts, you'll find something fascinating in these archives. This archive includes the single largest collection of photography and film of Sandwell people and communities over the past 40 years, including people, communities and activities not normally reflected in the official archives of this period. It has given us the opportunity to re-engage with the communities today to celebrate their past heritage and think about how we may shape the future."
Maureen Waldron, Archives Outreach Officer, Sandwell M.B.C