Jubilee Arts was a unique community arts organisation based in Sandwell in the Black Country. This website documents the period 1974-94, two decades of tremendous change. Locked away in the basement of West Bromwich Town Hall since the last century, during 2014-15, we dusted off the archive boxes, bringing them back to the light of day to share some our findings through a series of workshops, exhibitions and events.
Some 3,000 images were digitised and a selection can be found on this website, along with contextual material and 24 case studies of projects. There is also a Facebook page and we hope to add more material to the site in future. The original archive material is now safely preserved in the hands of Sandwell Community History and Archives Service at Smethwick Library.
Featured Image
From the archives we have selected a particular photograph to share with you, along with some thoughts from local individuals, our curators and participants. Perhaps never seen before, these images offer an insight into the Black Country and our changing lives.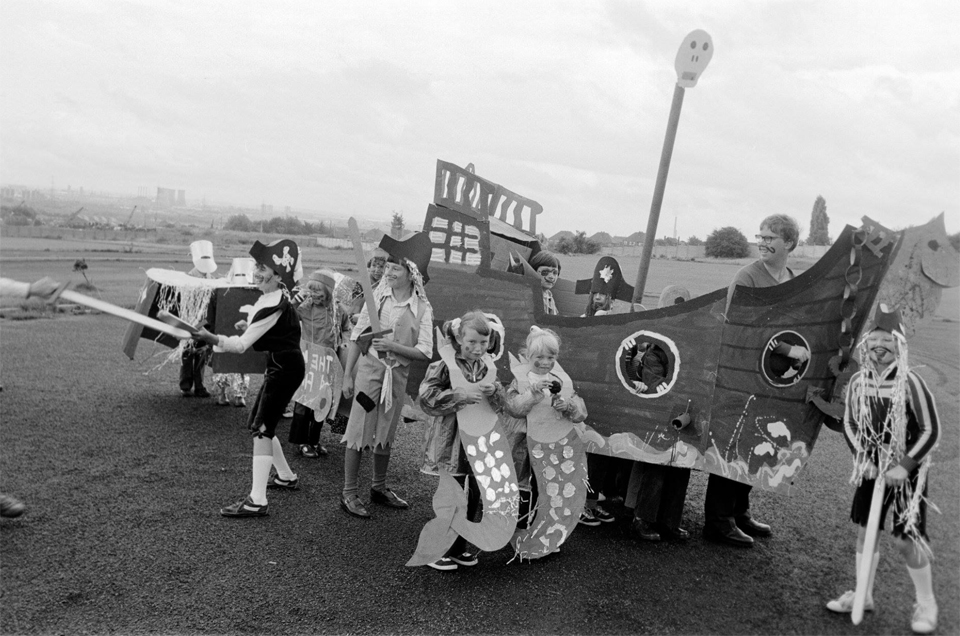 From the summer of 1981, Jubilee undertook 'themed' playschemes across the borough of Sandwell  -Space Week. Horror Week and so on. This image is from Brades Village, Oldbury in 1982. The theme of the week was 'Around the World in 8 Days', a playscheme exploring different parts of the world, and modes of transport. So of course, pirates had to make an appearance. The bus functioned as a giant mobile resource, full of cardboard, materials for costumes.
This playscheme took place on an empty patch of ground, behind the houses. In the background you can see the towers of Ocker Hill power station in the background, now long gone.
Where Jubilee led, others soon followed. A close relationship with the Department of Recreation and Amenities Department (who approved Jubilee's grant aid) meant that many of these playscheme ideas (as well as arts and music festival events) were taken up across their youth and estate schemes. To promote these activities the Department came up with an overarching theme of 'Holidays at Home' (and a later event called Sandwell-on-Sea). Sandwell is about as far from the coast as you can get in Britain, and many families couldn't afford to take their kids on a summer holiday, so these themes were highly popular. Sandwell was one of the most deprived areas at that time – nearly 50% of the land was derelict, a toxic legacy of the Industrial Revolution, less than half of households in the borough had access to a car, half lived in low-income households, and educational achievement was low.
In the spirit of the original arts group we returned to the original locations in the borough and worked with groups to explore and interpret the material. This has informed our choice of images to share. We've also made a selection of key projects to provide more background. Click on these below to find out more.
In the archive we came across some film material. Here's some footage from 1977, which offers a good introduction to the work of Jubilee at that particular time.
 "Whether you're a researcher, a history buff, a genealogist, someone interested in photography and the arts, you'll find something fascinating in these archives. This archive includes the single largest collection of photography and film of Sandwell people and communities over the past 40 years, including people, communities and activities not normally reflected in the official archives of this period. It has given us the opportunity to re-engage with the communities today to celebrate their past heritage and think about how we may shape the future."
Maureen Waldron, Archives Outreach Officer, Sandwell M.B.C