Jubilee Arts was a unique community arts organisation based in Sandwell in the Black Country. This web site documents the period 1974-94, two decades of tremendous change. Locked away in the basement of West Bromwich Town Hall since the last century, we've dusted off the archive boxes, bringing them back to the light of day to share our findings here.
The last two shows with archive material at West Bromwich and Smethwick have now been derigged but you can find documentation on the Facebook page and we will be adding more material to this site. There's plenty to explore here!
Image of Week
From the archives we have selected a particular photograph to share with you, along with some thoughts from local individuals, our curators and participants. Perhaps never seen before, these images offer an insight into the Black Country and our changing lives.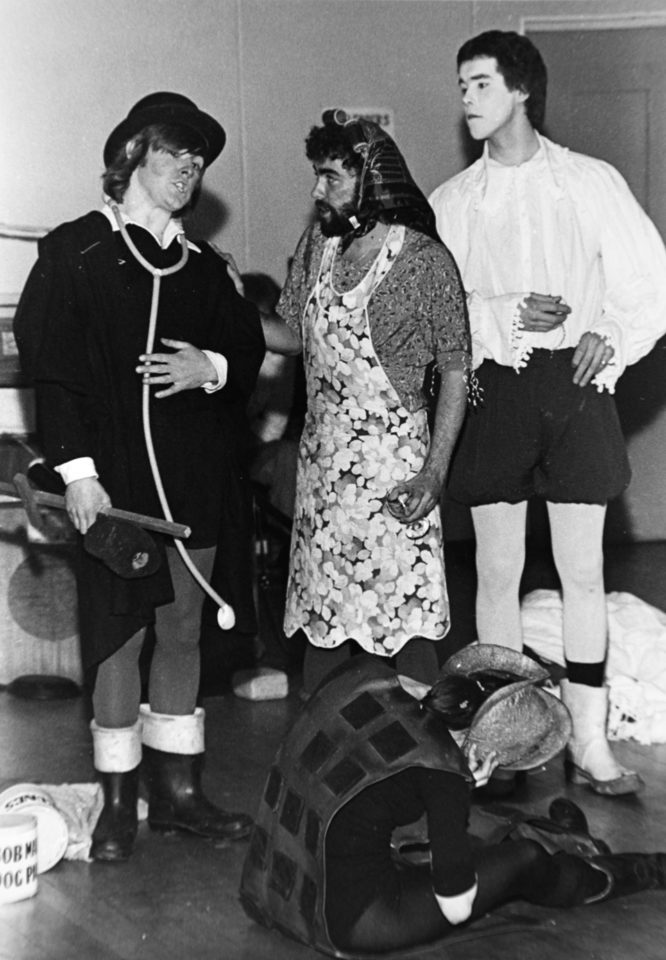 'Who ay a Doctor? I'll crack yer nut. Look, this is me susstificut!' cries out Dr Brown, one of the characters performing in the Mummers Play at Wood Street Community Centre, Tipton, in December 1976. Parental Advisory Warning – the play features some cross-dressing.
Thor and Loki did it in the Norse Tales. Hercules was supposed to dress as a woman while the slave of Omphale. Shakespeare had female characters who dressed up as men. To confuse matters, there was a time in his England when it was illegal for women to perform in theatres, so female roles in his plays and those of his contemporary playwrights were originally played by cross-dressing men or boys. Early performances from Jubilee Theatre and Community Arts enjoyed keeping up this gender switching tradition, especially in the festive season, no doubt fortified by lashings of sherry and eggnog.
They began with this Mummers play, performed in Black Country dialect, first staged outside Woolworths in West Brom at Christmas 1974 and revived a few times after. Tradition has it that these 'comedies' were performed during the festive season, though sometimes also on All Souls Day or at Easter. Characters usually featured included one King George III, a certain Boldgiah (the hero knight), Father Christmas, Dr Brown, Beelzebub and Devildoubt. They battled each other until one was killed. The Jubilee version, based on an old script preserved by a local family, renamed the Hero 'Hector the Turkish Knight', gave him a mother, 'Mrs Slasher', King George was transformed into 'St. George', and the character of Devildoubt became 'Safety Sam', a hapless referee who oversees the fight scenes.
More information: jubileeartsarchive.com/mummers-play-1974/
In the spirit of the original arts group we returned to the original locations in the borough and worked with groups to explore and interpret the material. This has informed our choice of images to share. We've also made a selection of key projects to provide more background. Click on these below to find out more.
In the archive we came across some film material. Here's some footage from 1977, which offers a good introduction to the work of Jubilee at that particular time.
 "Whether you're a researcher, a history buff, a genealogist, someone interested in photography and the arts, you'll find something fascinating in these archives. This archive includes the single largest collection of photography and film of Sandwell people and communities over the past 40 years, including people, communities and activities not normally reflected in the official archives of this period. It has given us the opportunity to re-engage with the communities today to celebrate their past heritage and think about how we may shape the future."
Maureen Waldron, Archives Outreach Officer, Sandwell M.B.C