Jubilee Arts was a unique community arts organisation based in Sandwell in the Black Country. This web site documents the period 1974-94, two decades of tremendous change. Locked away in the basement of West Bromwich Town Hall since the last century, we've dusted off the archive boxes, bringing them back to the light of day to share our findings here.
The last two shows with archive material at West Bromwich and Smethwick have now been derigged but you can find documentation on the Facebook page and we will be adding more material to this site. There's plenty to explore here!
Image of Week
From the archives we have selected a particular photograph to share with you, along with some thoughts from local individuals, our curators and participants. Perhaps never seen before, these images offer an insight into the Black Country and our changing lives.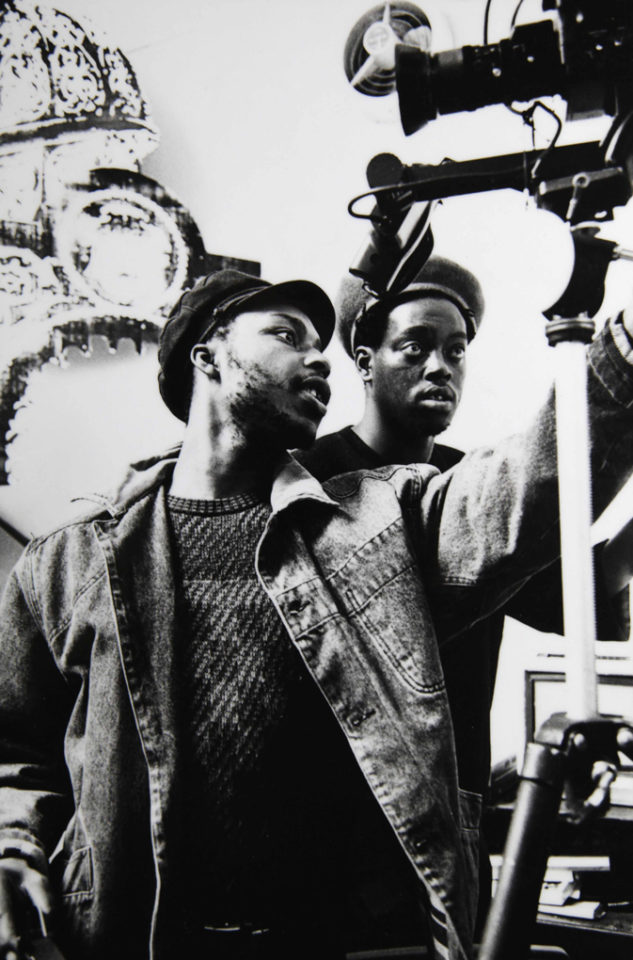 Whatever happened to…?
Gary Stewart first arrived in Greets Green in the mid-80s, initially awarded a year-long apprenticeship from the Calouste Gulbenkian Foundation to work with Jubilee Arts –  one of five such schemes around the country. He set up shop above the office, only to be reached by a decorating ladder. Hailing from down the road in Birmingham, Gary had originally attended Moseley Art School and then went to Trent Polytechnic to study electronics and computing. At the time he was particularly interested in tape-slide production and 'sonic experimentation.' In 1989, Jubilee were awarded some additional funding from the Council to spend on capital items. Gary proposed that some of the funding be spent on new digital tools – as he says himself, it may seem a patently obviously thing to do in retrospect, but back then this was a local community arts group working with an 8-track TASCEM portastudio and the value of this emerging technology was unclear.
Around that time, Gary had also brought one of the first Apple computers to Jubilee, a Mac SE/30, which had 1MB of Ram and ran on floppy discs, with a black and white screen. (Eight of these babies were used to make the book 'Bending the Truth a Little Bit' with Churchfields School). So Gary went out and bought Sound Tools, a card which enabled the computer to record sound – 'it cost an extraordinary amount of money.' (Sound Tools later became Pro Tools.) This was the beginning of Jubilee's successful foray into the digital world, then a leap into the unknown. Among many other projects, Gary worked on 'Bickle' and developed 'Sex Get Serious' before leaving in the 90s to work at ARTEC in Islington, a centre set up originally by Cultural Partnerships (a group Jubilee had a strong relationship and many work exchanges), training young people in digital media. He later went to work at INIVA (International Institute of Visual Arts) as Head of Multimedia. Today he works as an artist and experimental sonic musician based in London. He is a keen cyclist. With Trevor Mathison he is also part of Dubmorphology who make art installations that examine the relationship between culture, history and technology. He and Trevor recently gave a talk at the Ikon in Birmingham about their work – you can view it here: www.ikon-gallery.org/event/talk-living-with-difference/
Image: Gary Stewart running one of many workshops at the High Street premises of Jubilee in West Bromwich, circa 1988. Looking over his shoulder is Len March, who was involved in Smethwick Music Workshop, and also worked on the 'Summer Celebrations' programme with the Jubilee Bus.
In the spirit of the original arts group we returned to the original locations in the borough and worked with groups to explore and interpret the material. This has informed our choice of images to share. We've also made a selection of key projects to provide more background. Click on these below to find out more.
In the archive we came across some film material. Here's some footage from 1977, which offers a good introduction to the work of Jubilee at that particular time.
 "Whether you're a researcher, a history buff, a genealogist, someone interested in photography and the arts, you'll find something fascinating in these archives. This archive includes the single largest collection of photography and film of Sandwell people and communities over the past 40 years, including people, communities and activities not normally reflected in the official archives of this period. It has given us the opportunity to re-engage with the communities today to celebrate their past heritage and think about how we may shape the future."
Maureen Waldron, Archives Outreach Officer, Sandwell M.B.C