Jubilee Arts was a unique community arts organisation based in Sandwell in the Black Country. This web site documents the period 1974-94, two decades of tremendous change. Locked away in the basement of West Bromwich Town Hall since the last century, we've dusted off the archive boxes, bringing them back to the light of day to share our findings here.
The last two shows with archive material at West Bromwich and Smethwick have now been derigged but you can find documentation on the Facebook page and we will be adding more material to this site. There's plenty to explore here!
Image of Week
From the archives we have selected a particular photograph to share with you, along with some thoughts from local individuals, our curators and participants. Perhaps never seen before, these images offer an insight into the Black Country and our changing lives.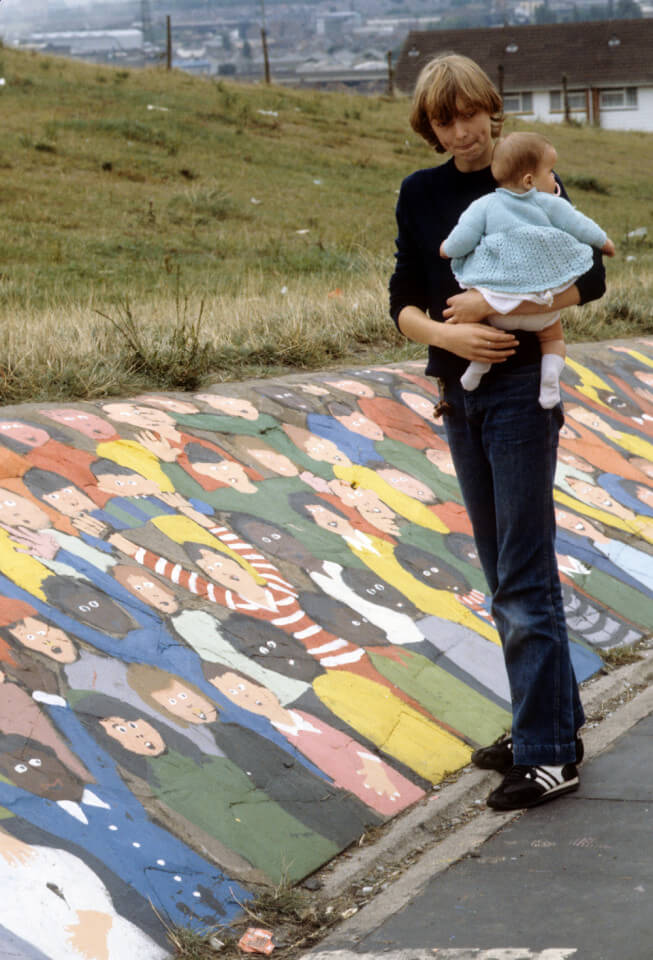 It is unlikely that in the Black Country they had heard of the Great Wall of Los Angeles, a community mural begun in 1978 by Judy Baca, made with some 400 young people and artists. They were certainly aware the London Mural Movement, young artists wanting to work in the public realm, where the street was their canvas.
Along Reservoir Road, rising on one side of the Rowley Hills, there were four 14 storey blocks built by Wimpy in the mid-1960s for Rowley Regis Municipal Authority. Only two blocks remain today – and Rowley merged into Sandwell M.B.C. in 1974. By 1978, Jubilee had begun to expand their repertoire advertising for an environmental artist to work with the group. Mark Renn was then the first artist to produce a mural, working with a tenants association. During school holidays at Easter and summer, mural making accompanied the play and theatre work and took on a life of its own. Here on Reservoir Road a large paved concrete children's play area at the foot of one of the block of flats was enlivened with a 'flooral' – designed and executed by local kids working with the Jubilee artists and an awful lot of paint, over several days the flagstones were turned into a ready-made gigantic games board. The low areas around the area were painted with a cheering crowd, as you can see in this photograph. While designed as a temporary feature, these works lasted out the decade.
It was a notable feature of these early projects that often the young kids brought along their even younger siblings – in many cases they were looking after them while their parents were out at work. 'Latchkey kids' was the common term used – which apparently dates back to the Second World War. Even if one parent was at home, the kids would be out and about.
Michelle Day remembers those times in the Black Country:  "We lived opposite my Nan, Mom would say go over your Nan's and we'd run over. We didn't want to go sometimes so Mom would say 'We'll time you… one… two…' and then that would spur you on and you'd run really fast. And they weren't timing you at all, cos when you'd come back over the road they'd be going 'Twenty-five, twenty-six…' And if you'd got your slippers on you could run really really fast, because they had grip. There wasn't so much traffic on the roads. You were quite safe. We'd used to go off almost the whole day in the summer holidays. We'd get up at 8 'o' clock, we might come back about 2 because we were hungry and then we'd come back about 7 or 8 'o' clock at night. It must have been a doddle for our parents. You literally were never around. You didn't want to come back. We'd be out playing and it would be getting a bit dark and Mom or Dad would come out. 'Shell! Sean! Come in!' And we'd go, 'Nooo… Five more minutes please!' You were desperate to stay out and all we were doing was making a nuisance of ourselves. In those days, in the 70s, people were really proud of their privets. They used to be cut beautiful and you'd push and shove each other in the privet and they'd go mad and come out their house and shout 'Clear off down your own end!' "
More info here: jubileeartsarchive.com/murals/
In the spirit of the original arts group we returned to the original locations in the borough and worked with groups to explore and interpret the material. This has informed our choice of images to share. We've also made a selection of key projects to provide more background. Click on these below to find out more.
In the archive we came across some film material. Here's some footage from 1977, which offers a good introduction to the work of Jubilee at that particular time.
 "Whether you're a researcher, a history buff, a genealogist, someone interested in photography and the arts, you'll find something fascinating in these archives. This archive includes the single largest collection of photography and film of Sandwell people and communities over the past 40 years, including people, communities and activities not normally reflected in the official archives of this period. It has given us the opportunity to re-engage with the communities today to celebrate their past heritage and think about how we may shape the future."
Maureen Waldron, Archives Outreach Officer, Sandwell M.B.C