Jubilee Arts was a unique community arts organisation based in Sandwell in the Black Country. This web site documents the period 1974-94, two decades of tremendous change. Locked away in the basement of West Bromwich Town Hall since the last century, we've dusted off the archive boxes, bringing them back to the light of day to share our findings here.
The last two shows with archive material at West Bromwich and Smethwick have now been derigged but you can find documentation on the Facebook page and we will be adding more material to this site. There's plenty to explore here!
Image of Week
From the archives we have selected a particular photograph to share with you, along with some thoughts from local individuals, our curators and participants. Perhaps never seen before, these images offer an insight into the Black Country and our changing lives.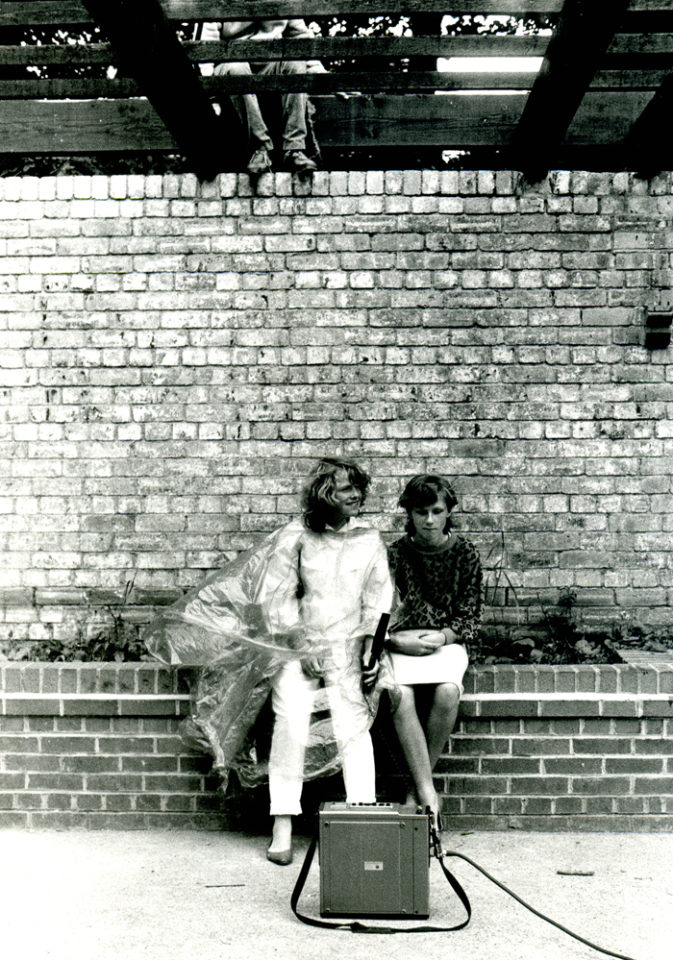 In the 1980s, Jubilee Arts signed 'agency agreements' with both Dudley and Walsall, expanding youth arts work further across the Black Country boroughs and helping to develop new community artists and funding.
At Noose Lane in Willenhall,  they worked with a community steering group to offer an exploratory series of arts workshops events over the summer which led to a festival event.  They worked one project with a group of teenage girls (and one lad, who enjoyed climbing on things to get in shot) and made a short video, called 'Am Yow Tapin' it?', canvassing local opinions on Girl Power (10 years before the Spice Girls monetarised the term), Family Life; Best Friends; Spare Time; Education? Best holidays! And so on… This was premiered at the Festival.
Material in those days was captured on the newly available Sony Betamax portapack and 12.7 mm cassette tapes – although intended for home usage, these were very close to professional Betacam tapes used in news broadcasts. There was a camera, attached to a pack which you can see in this image. The pack ran off batteries. In the image you can see the girls are holding an external rifle mike. Within a few years this format lost out to VHS tapes, which came to dominate the market. The equipment to play the tapes became redundant and replacement parts unavailable. Several U-matic tapes that Jubilee recorded in the 1980s were stored with Sandwell Archives and have recently been digitised by the Media Archive of Central England, and thus reclaimed for the future.
In the spirit of the original arts group we returned to the original locations in the borough and worked with groups to explore and interpret the material. This has informed our choice of images to share. We've also made a selection of key projects to provide more background. Click on these below to find out more.
In the archive we came across some film material. Here's some footage from 1977, which offers a good introduction to the work of Jubilee at that particular time.
 "Whether you're a researcher, a history buff, a genealogist, someone interested in photography and the arts, you'll find something fascinating in these archives. This archive includes the single largest collection of photography and film of Sandwell people and communities over the past 40 years, including people, communities and activities not normally reflected in the official archives of this period. It has given us the opportunity to re-engage with the communities today to celebrate their past heritage and think about how we may shape the future."
Maureen Waldron, Archives Outreach Officer, Sandwell M.B.C