Jubilee Arts was a unique community arts organisation based in Sandwell in the Black Country. This web site documents the period 1974-94, two decades of tremendous change. Locked away in the basement of West Bromwich Town Hall since the last century, we've dusted off the archive boxes, bringing them back to the light of day to share our findings here.
The last two shows with archive material at West Bromwich and Smethwick have now been derigged but you can find documentation on the Facebook page and we will be adding more material to this site. There's plenty to explore here!
Image of Week
From the archives we have selected a particular photograph to share with you, along with some thoughts from local individuals, our curators and participants. Perhaps never seen before, these images offer an insight into the Black Country and our changing lives.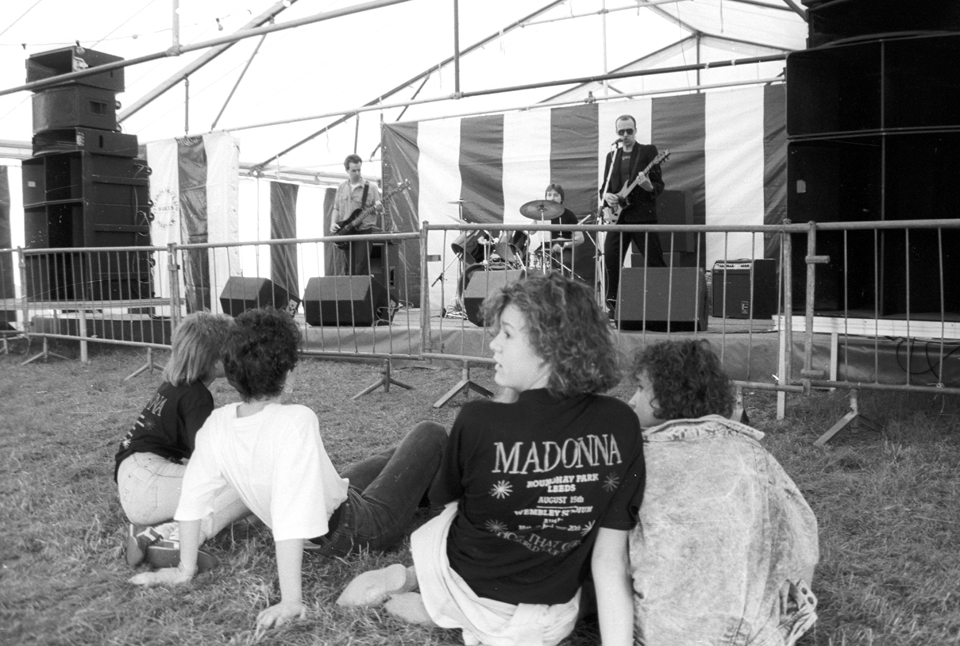 Sandwell Valley is a green belt area of some 1,800 acres, alongside Dartmouth Park, West Bromwich. Running north to south, the M5 motorway bisects the Country Park. On the western side, the playing fields in front of Sandwell Park Farm visitor centre were used as the venue for an annual Bank Holiday Festival event organised by the council. (It was also here that Jubilee had held the first festival some 10 years earlier, with jugglers, clowns and welly throwing). A free event, the Sandwell Festival attracted crowds of 100,000 over the two days.
As part of the Sandwell festival, Jubilee presented 'Soundstage' to promote local musicians, building on work with Smethwick Music Workshop and sound recording projects. This image documents a rare appearance of Joe Crow, with Paddy Quick on bass and Martin Walker on drums. Joe tells us that the girls at the front are his niece Lisa with her cousins, Billie-Jo, Krisha and Zoe.
Paddy Quick recalls:  'It's a long way back but…  I remember it quite well because it was the highlight of my very short musical career. We'd been rehearsing for months before we decided we were ready to perform. Martin and I would drive over to Joe's twice a week where we'd meet with him and Eamon Duffy and set up to rehearse. It was intended that we'd be a four-piece with Eamon Duffy on lead guitar but unfortunately, a few weeks before the Sandwell gig, Eamon broke some fingers (or his hand, I can't remember which). However, we decided to go ahead as a three-piece with Joe filling in all the guitar parts as well as doing all the vocals and all other guitar parts. It's easy to remember the set because it was recorded (from the soundboard by Chris Jones, I think). The audience was small and consisted mainly of our friends and families but we loved playing and were well received by those who were there. We'd decided on twelve songs for the set, all written by Joe. His songs, including the ones that didn't make the setlist still stand up today. I would love to have heard them all on a studio album with good production values and with better bass playing. We did actually record a couple of songs under studio conditions but I've no idea if they still exist. Soundstage was a proud moment for me to perform with such good musicians as Joe and Martin and we played at least one other gig which was as good as that day (at some pub in Birmingham) but which wasn't recorded. We also performed at least once with Eamon when his hand had recovered.'
Chris Jones (the music worker at Jubilee) did indeed record the gig, as well as some of the rehearsal sessions in the back room at their base at 84, High Street, West Bromwich. Some of those recordings ('Shotgun Valentine' and 'Tomorrow Goodbye') can be found today at: https://soundcloud.com/j03cr0w
In those days, among other bits of kit, they were working with a TASCAM portastudio, originally the world's first four-track recorder introduced in the 1980s, based on a standard compact audio cassette tape. (Bruce Springsteen's album, 'Nebraska' was recorded in a spare bedroom on a TASCAM Portastudio 144 and a pair of Shure SM57s.)  Joe Crow had previously collaborated with Chris Jones on a live performance accompanying Smethwick break-dancers in 1984-85. He was originally a member of both The Prefects and their successor The Nightingales, Brummie punk & post-punk veterans. His single 'Compulsion', originally on Cherry Red Records, was covered by Martin Gore of Depeche Mode on his 1989 'Counterfeit' EP. (The original was re-released on Dark Entry Records of San Francisco in 2015, as part of their mission to resuscitate the 80s underground.)
In the spirit of the original arts group we returned to the original locations in the borough and worked with groups to explore and interpret the material. This has informed our choice of images to share. We've also made a selection of key projects to provide more background. Click on these below to find out more.
In the archive we came across some film material. Here's some footage from 1977, which offers a good introduction to the work of Jubilee at that particular time.
 "Whether you're a researcher, a history buff, a genealogist, someone interested in photography and the arts, you'll find something fascinating in these archives. This archive includes the single largest collection of photography and film of Sandwell people and communities over the past 40 years, including people, communities and activities not normally reflected in the official archives of this period. It has given us the opportunity to re-engage with the communities today to celebrate their past heritage and think about how we may shape the future."
Maureen Waldron, Archives Outreach Officer, Sandwell M.B.C