Jubilee's work was all about local people and artists coming together to make a difference in their communities. In the same spirit, you are invited to make your own contribution to help develop this website.
There are many ways you might like to contribute and we'd love to hear from you if you can share:
– your own reminiscences, photographs or memorabilia relating to Jubilee Arts
– examples of other community arts activities happening in Sandwell or elsewhere in those early years
– why you think these activities mattered and what we might learn from them about what's needed today
 Let's make this a conversation – maybe even a new call for artists and communities to come together again to make a difference in equally challenging times!
Or perhaps you just have a question about Jubilee – we'll ask Steve and see if he knows.
Send your responses, ideas or questions to: brendanjack(at)gmail.com.
Let's keep the conversation going!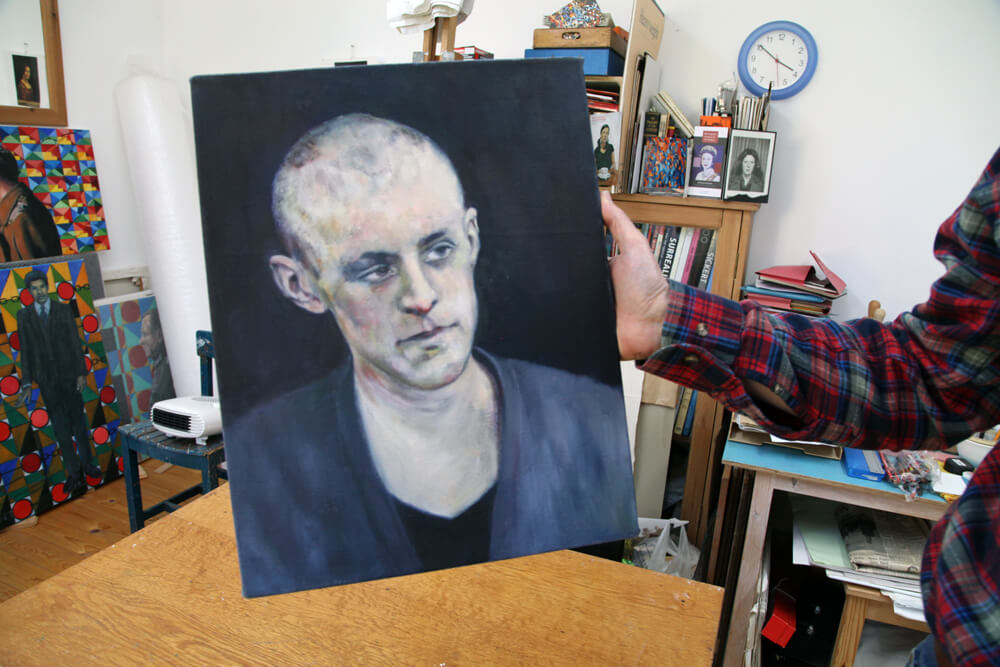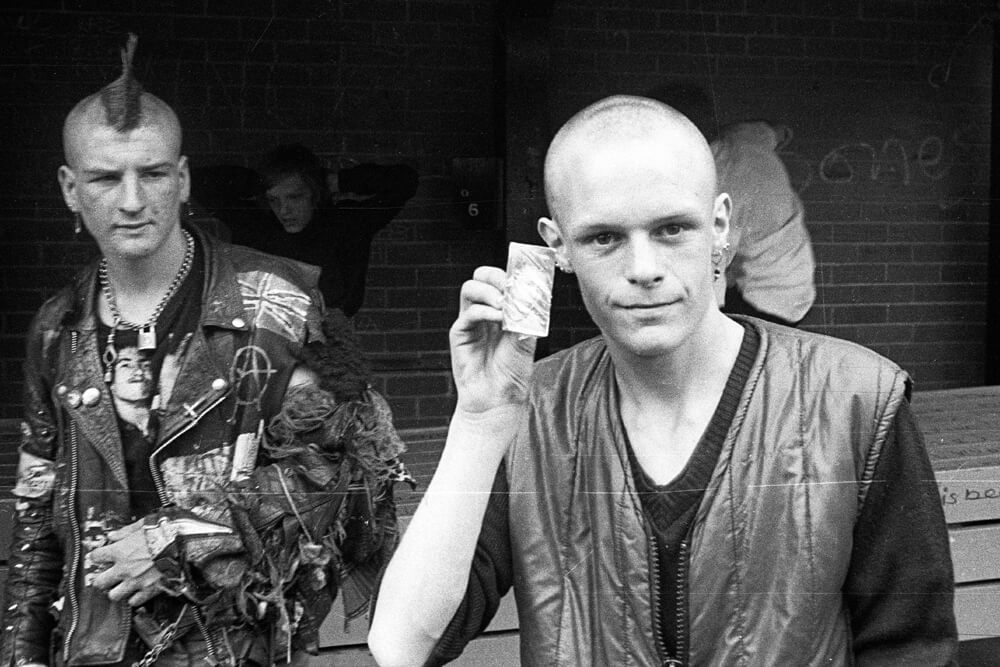 Derek Jones worked with Jubilee as an environmental artist. it wasn't the only thing he did. He recalls working on the Bus with punks in Tipton. He made a painting of one of the lads and here it is, alongside an original photo of the 'subject'.
Derek recalls: "We got them on the Bus and did some portraiture with them in the darkroom and talked about their culture and identity and image. One lad said, 'If I dress normally, in a suit for an interview or something, I don't feel myself. Only when I'm wearing these clothes I feel like me.' They were dressed in leathers and safety pins and their hair up here but underneath their facade of punkism, they were just teenagers and they were fine. They just preferred to be dressed up in that way. And they were pretty scary. People were looking at us, thinking what's the heck's going on there? They were glue sniffing as well. I remember when we had a show of their photographs in the bus and took it round various people and the one woman said to us, 'These lads are really nice, aren't they? I've had a really good chat with them. If I'd have seen them walking down the road I'd have crossed over, but they're actually nice lads'. You just think, well that illustrates what prejudice is really."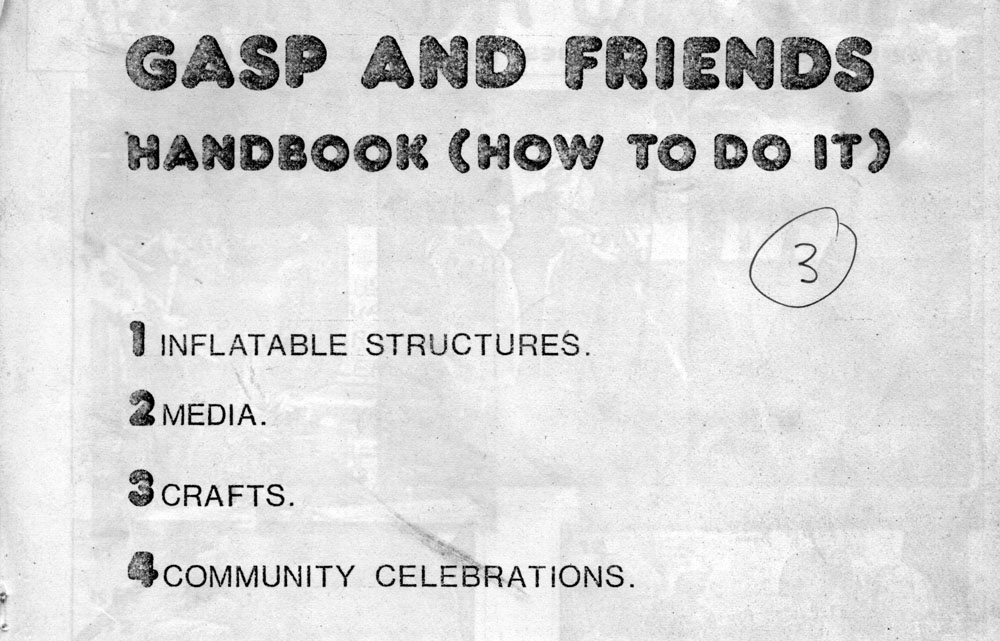 In the archive, we came across a photocopy of this great little handbook from GASP from 1975  – which stood for, as far as we know, Group Art Spectator Participation. Jules and Barry went on to found Saltley Print and Media (SPAM) in Birmingham and later in the 1980's Jules worked at Action Factory in Blackburn. Jubilee picked up how-to-make-an-inflatable from the guys at GASP. In the pdf you'll find tips on things to do with cardboard, timber, paint, playschemes, murals, youth activities and media.  (Although it mentions inflatables on the front, we don't have any pages about this…) They were inventive, these artists, in that particular DIY way they had back in the 1970s, 'making things out of next-to-nothing, and the world about them a better and more interesting place'.
Inflatables remain popular with artists (and not just the art stars like Paul McCarthy and Jeff Koons). Have a look at the work of the the arts group Tools For Action…  and an interview with one of their members Artur Van Balen for the show 'Disobedient Objects' at the V&A in London.
Want to make your own? Have a look at this video.
Note: Harry Henderson worked with GASP for a while, and later he was the community artist for Community Links on the West Smethwick Estate. See the section on Smethwick Music Workshop for more about that.