"I believe that Sex Get Serious has succeeded in finding the right message and presenting it in the right format. This project brings longer-term benefits to the young people of Sandwell and other health authorities."
 Dr John Middleton, Director of Public Health, Sandwell, 1994.
Sex Get Serious was a commission by Sandwell Health Authority, following a presentation made to the regional HIV/AIDS committee of the Health Authority. At this time, the shifting boundaries of technology rapidly changed the nature of the relationship between artists, object, space and viewers/participants. Back in 1984, Apple launched the Macintosh, and the world for many arts organisations did indeed change. Steve Jobs came up with the slogan, 'Never Trust a Computer You Can't Lift.' Jubilee swopped its electronic golf-ball typewriter for a computer that year, and began to explore how to use these new tools as part of their portfolio of work.
Led by Beverley Harvey of Jubilee, over a 12 month period, a team of artists worked with young people in Sandwell, aged from 12 to 20, examining issues of sexual health through workshops using drama, video, visual arts and photography. These workshops determined the content, look and feel of the final computer piece, which was originally planned to be part of a standalone touring display used by health professionals.
As Jubilee were known for their work with young people, Sandwell Health Authority approached them to explore the potential for arts and health projects. The origin of this particular piece of work was that a member of the health promotion team, who was working within the area of HIV and AIDS, had expressed concerns about the supposedly lack of awareness amongst young people and especially amongst the young black community. He proposed that arts workers produce some snazzy leaflets designed in a style that young people could relate to. As an experienced worker used to working with socially sensitive issues and often in challenging environments, Beverley sought to firstly explore the reasons for lack the lack of awareness through direct dialogue with young people.
Over a series of meetings it was agreed that the project would begin with some action research, directly engaging with young people, but would not target just black youths for a variety of reasons – such as some of the racist myths based on the origin of the virus which were prevalent in the media at that time. The research phase went to places where known truancy locations had been identified, in the local town centre and amusement arcades, simply talking to young people using existing health authority leaflets, publications (from organisations such as Terrence Higgins Trust) and comics use by a health promotion team in Liverpool, which were cited as good practice.
However, the responses of young people were that the 'official' leaflets were boring, and didn't encourage you to go beyond the first page. Instead, they tended to contribute greatly to the rubbish thrown about West Bromwich and Smethwick high streets.
Jubilee had three Apple Mac SE's – a small word processing computer with (then) very limited software packages. At that time the state of art multimedia was HyperCard – with black and white monitors. Using existing local health promotional material as a starting point, we scanned the leaflets (using a hand scanner), did some voice-over's and created a presentation through cell by cell animation approach using multiple layers of single cards that created moving animation. There were a series of buttons that could be clicked to navigate different parts of the programme to uncover more information. A variety of humour was included such as the 'Sugar Condom Fairy'.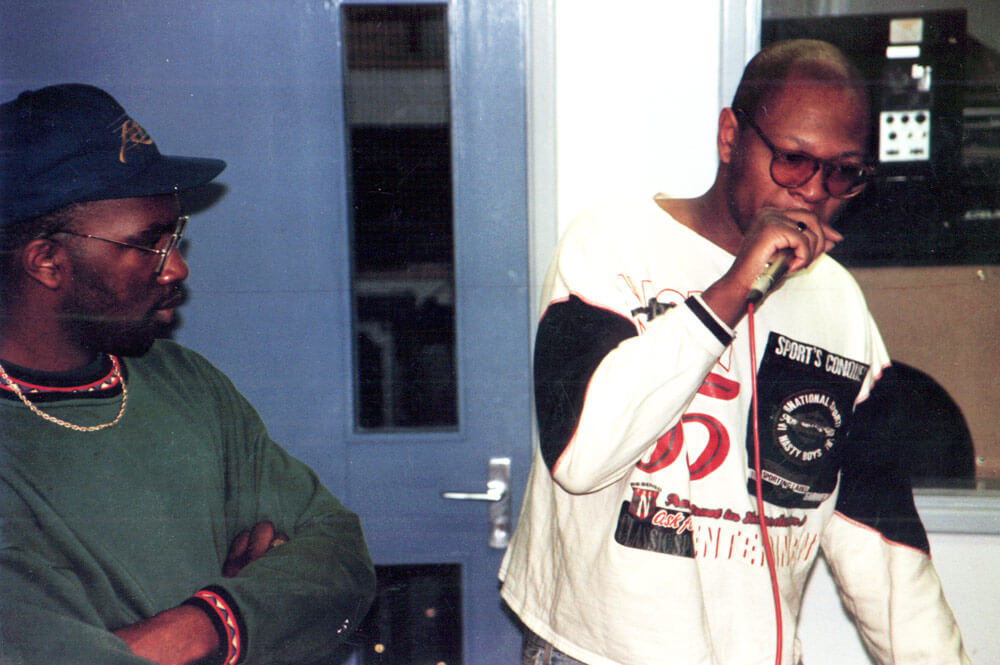 Young People in Jubilee's studio, recording original lyrics based on workshops.
Going back to the same locations using this computer based presentation, the response was very different, the sound and animation elements generated a wealth of excitement amongst the young people. This was happening at a time when there were numerous arguments about young people getting addicted to arcade games. And here was Jubilee making a proposal to a health authority to nurture an addiction, and pass on skills to these young people to create their own games. At first it didn't go down too well, but what was shown to work was the process of involving the target group, that through face to face dialogue, imaginative interventions and skill sharing we could address the issue and educate the young people in an innovative way.
With a target of 200 young participants to involve, the majority were drawn together from informal settings. The training came in three parts, planning and interface design; pre-production – gathering assets – this was where many of the traditional art forms came into play, with music, video, sound, photography and visual art; production – learning programming skills, testing and de-bugging and post-production. Jubilee's community arts skills enabled the young people to make a significant contribution to the style and manner of presentation of the end product.
The pre-production and production took over 18 months (partly due to the available technology changing rapidly) with a series of training workshops built into the programme. Several versions of Sex Get Serious were created, the first for a freestanding display which toured with a team of health workers, the second housed in a computer which toured local schools, the third which was part of the exhibitions 'Brenda and Other Stories: Art + HIV + You' at Walsall Art Gallery and 'alt.youth.media' at the New Museum of Contemporary Art, New York. The first version was launched as the centrepiece of the opening of the Unity centre for Sexual Health in Oldbury on World AIDS Day 1993.
The computer programme took the user of an interactive journey around 'Kooltown', a fictional urban setting where by opening the doors of a night club, newsagents, youth club, health centre or home environment, you engage with characters, stories, games, songs and images to gain information.
However, in September 1993 – before it was even finished – the project attracted some adverse publicity with the headline 'HI-TECH HOOKER JOINS FIGHT FOR SAFER SEX' and the Director of Public Health in Sandwell went on the regional news programme to defend it. A Tipton Pentecostal Minister told the press, "Anything which is teaching that sex is not part of a stable relationship is asking for trouble." West Bromwich East MP Peter Snape and Tory Councillor Vera Jones welcomed the game. Mr Snape said, "The prevention of Aids is absolutely vital and we have to find an alternative way to get the message across to young people who are not impressed by lectures from middle-aged men and women in white coats." The news headlines generated sales, with over 350 requests for copies from health professionals, youth workers and teachers from across the country
Nevertheless, it did not cause as much controversy as a new piece of public art unveiled in a shopping precinct in Smethwick, by Ivan Smith and Paul Richardson, featuring an ornamental fountain made of metal springs and a sculpture of a busker plucking a turkey. 'Councillor Roger Horton accused the council of turning the centre into a toytown… he had never seen such a waste of money in his life.'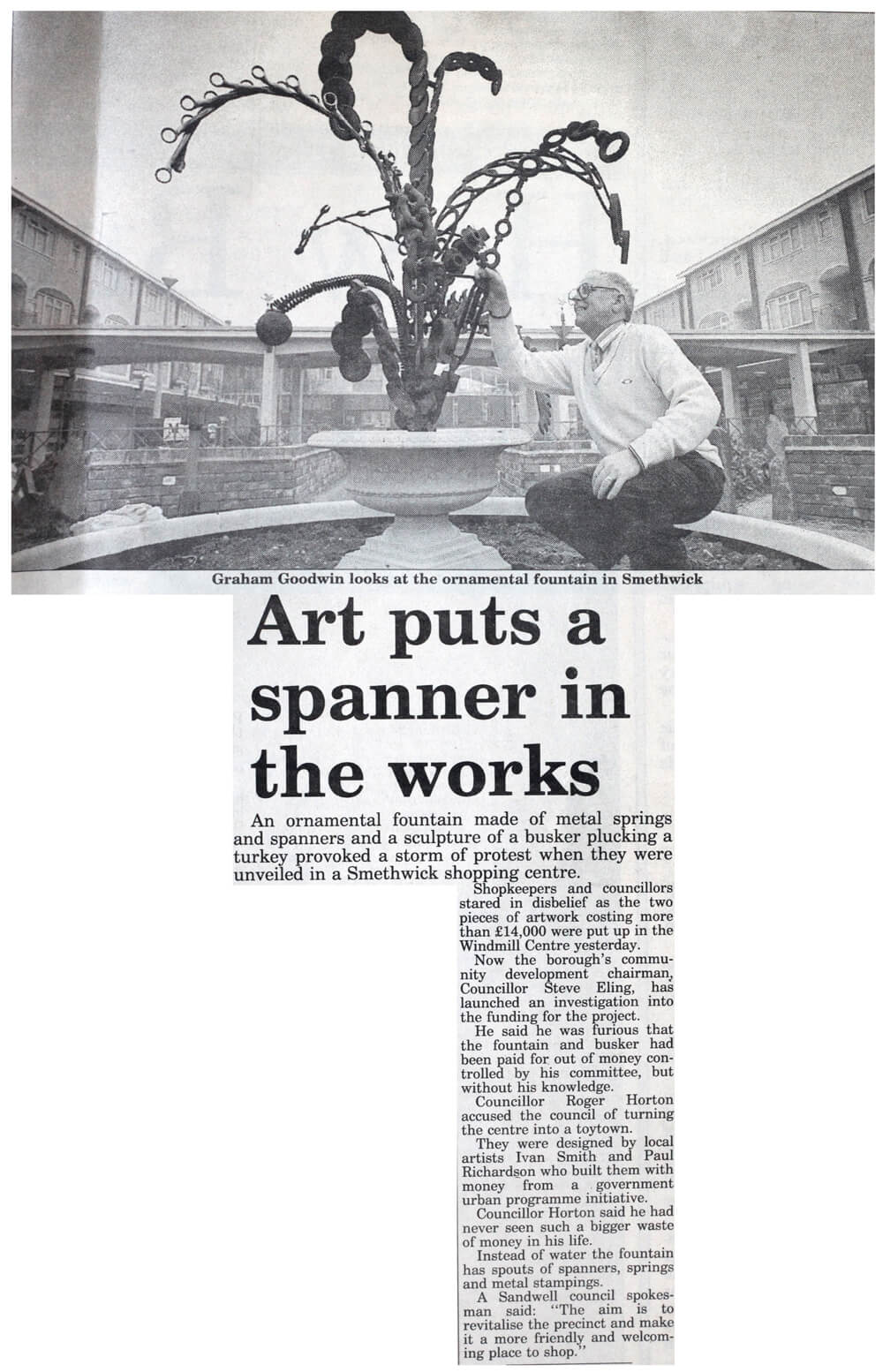 Later, local authority fear of Clause 28 (the Local Government Bill from 1987 which aimed to 'ensure that expenditure by local authorities for the purpose of promoting homosexuality will no longer be permitted') proved an obstruction to secondary schools using the material, even though the project focused on all youth and not gay youth. It was at this time the government also began giving school governors more powers; Jubilee were invited to participate in governor training schemes to talk about the impact of new technology in education, and by demonstrating 'Sex Get Serious' as one example, the company found that school governing bodies were telling their school heads to use the CD-ROM, which led to the production a new version with an education pack. Later a customised version was commissioned for use in prisons by Shropshire and a version for North Birmingham Health Authority.
As a result of the style and approach to engagement, training, and awareness raising the project was featured on the BBC World Service the BBC 2 series 'Computing for the Less Terrified'. The project was nominated for and won a Health of the Nation Award, which was presented by Kriss Akabusi, Olympic 400 metre hurdles medal winner.
Jubilee were later commissioned for a number of arts and health projects, one of which 'Ease the Wheeze'  – it was designed as an interactive travelling kiosk giving information on asthma in a lively and entertaining way. It was also made with the involvement of children and adults and installed in shopping centres, GP surgeries, schools and community centre over a period of  2 years. It also won awards.
The CD-ROM used animations and video footage. Here's some rare footage of young people filming some of the rough cuts, which were later incorporated into the multimedia piece.