Community Murals 1978-82
painting the town red, or at least in bright colours…
The late Sixties and early Seventies saw an explosion of fringe, multi-media and experimental arts activity, of which community arts was one strand. People argued about 'public art' versus 'art in the community'. Jubilee's Annual Report of 1979-80 stated that their brand of community arts was definitely 'not just art in the community, an educational hobby, or simply a way of keeping kids (and adults) off the streets'. They were expanding their repertoire with mural work undertaken with a group of Asian youth and with a banner created with Wednesbury Trades Council. Their first mural (in 1978) arose from the relationship with Bermuda Tenants Association, their summer playscheme there and the artists Mark Renn (who had painted The Bus) and Martyn Overs.
Kate Organ: "In 1978, Jubilee decided that we would advertise for an environmental artist and Mark Renn and Martyn Overs came for that summer. Mark was a painter and had done his dissertation at art school on the mural movement in Mexico. Murals were coming about all over the place, partly from this influence of Rivera. They were the next movement in community arts. As I recall, the other chap also tended to do 3-dimensional structures and helped the women of Windmill Lane design and build a play area by the flats and worked on poster designs. The bus had gone to Yew Tree, the playscheme was happening, there was a wall and it was doing nothing. So the artists consulted people about their heroes and who were they were fans of, who they admired, like Peter Blake with the Sergeant Pepper front cover, which was a reference point. It was a mural to brighten up a very dull place. What they didn't want to do was ruin the existing use of the wall as a goalpost so they designed the goal into it, with people behind the goal. So this was trying to do Diego Rivera in Yew Tree." The mural sparked discussions about what other improvements could be made, so the Tenants Association fundraised for a five-week project to design and build a play structure, which culminated in a circus-themed celebration with Jubilee. Their Chair, Geoff Hunt, was more than pleased: "We've had people coming forward for the first time to get involved – working on the structure, helping with materials. Some have joined the Committee and have begun to take part in other activities of the tenants association. It's a great way to bring people together and helping them to appreciate each other's skills."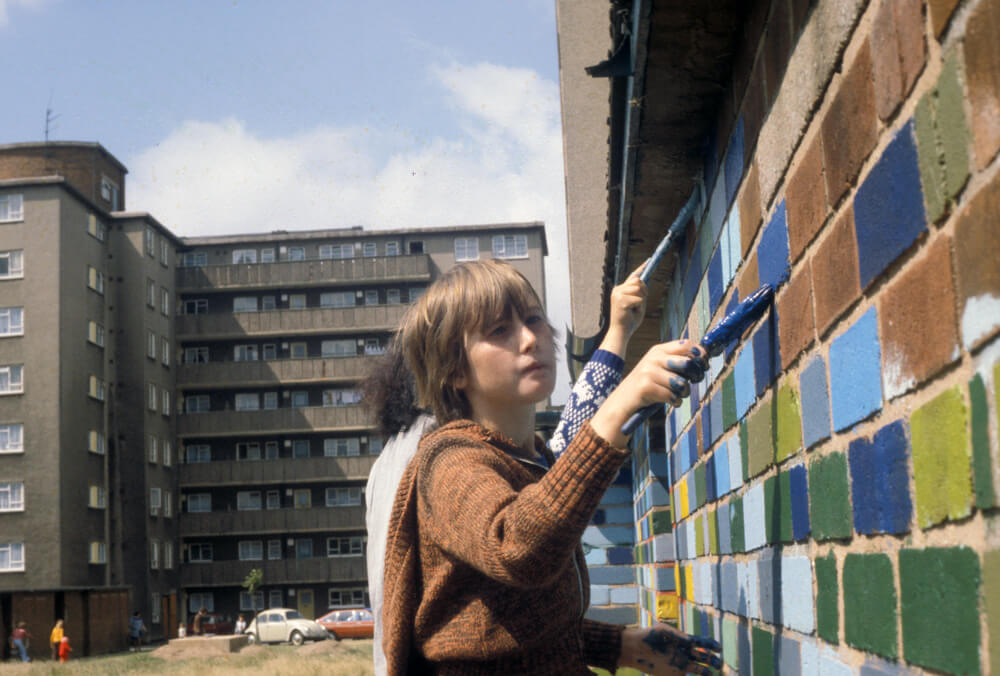 "There are some very good examples whereby we can say that community art has produced things which are worthwhile in their own right. Murals are one example. They seem to me to epitomise community art in the sense that a small group of people have actually joined in the work of artistic creation, and they have been able to do so because there was the kind of artist who could relate to such people, and wanted to enable them to work in that way. We are talking here about a small number of people, maybe 15, maybe 20, to whom this experience is of enormous value. But then you get bystanders over a period of time who belong to the neighbourhood or area, and find an identification with their particular group, whatever that is, through this work of art, either through knowing people who are working on it or through what it is trying to express."
– Robin Guthrie (Joseph Rowntree Trust and Arts Council Chair of Regional Committee 79-81), interviewed in 'Another Standard' magazine, March 1982
Work at Windmill Lane focused on children, in particular on the 'Chinese Playground' situated above a garage block off Windmill Lane. Each Saturday in the five weeks leading up to Easter the Bus visited the area to renew contact with kids who had been involved with the previous summers play events. From these sessions a core of 15 kids took responsibility for planning the Easter project and the idea solidified over painting a substantial mural around Space, Football, Comics (there been some very temporary mural work the year before.) Permission was sought from the Housing Department and the project took place. Walls were primed, designs were scaled up, and four walls painted using a comic as the format, including goals to kick a ball against, and a puzzle page.
At the Nirankari Mandal Community Centre in Wednesbury, a group of young men worked with Derek Jones from Jubilee to make a wall painting of the four Nirankari, after discussions on ancient art styles. A group of young women were then inspired to make a wall hanging. Other murals were created with Beeches Road Girls Club inside the church hall and at Blackpatch play centre.
When Derek left school in Heathtown at 15 he became an engineering apprentice. At the age of 30, he became more interested in design, deciding to do an A-level in Art and then an arts foundation course. This led to an interest in painting and a fine art degree in Coventry. He then applied for a 'community arts worker' job at Jubilee. "It was a completely different experience. I learned an awful lot. I saw a different side to life. It was like a top up education. I learnt to drive the Bus and was thrown into the deep end, getting involved in all the projects, the playschemes, the print production, not just the murals. The way it worked was we were contacted by people and say they would like to do something with us, asking us what can we do? We might start with a printing project, and develop it from there. Some of the murals were very much community based. They would design it, decide where it went decide what they wanted, who would be involved with it, we would supply, the materials and understand how to paint it, so we were more of a technical support. For other projects they would want a more substantial mural, more artist led, rather than they do it themselves, so they would be more of an assistant working with us. You could design a mural in such a way that people who didn't have painting skills could get involved by having them paint certain flat areas. But the overall design of the mural would be done with the adults or children. Murals were meant to be a bringing together of the community on a project, it was a cooperation, producing an iconic image for them to relate to later on. To create a community spirit, it was about them, it wasn't about art galleries and artists."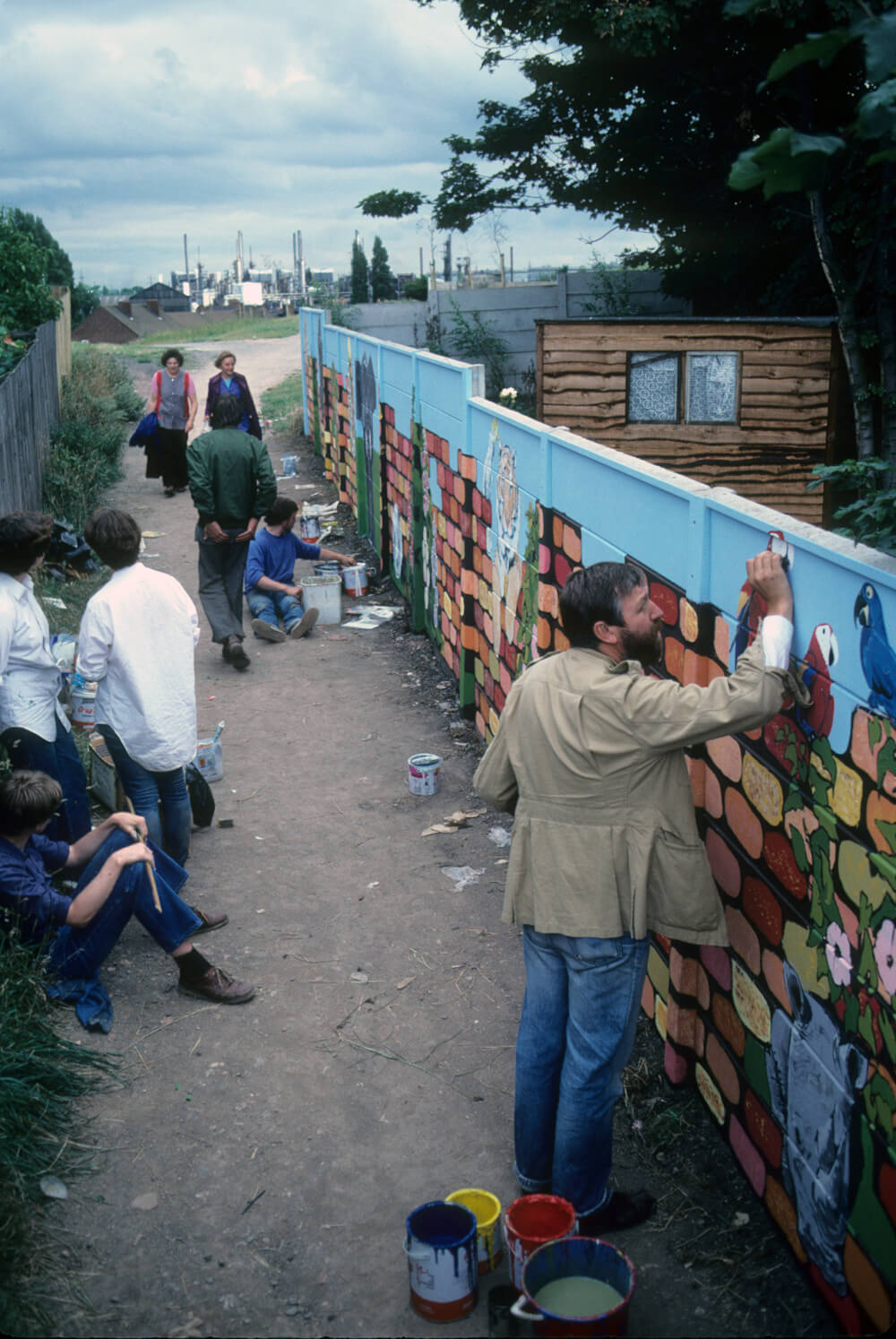 "At Oval Road in Tipton there was this dead concrete wall where kids would congregate and people didn't like going down that alley, and they wanted to, for want of a better expression, 'brighten it up' and make it more 'user friendly', to change the whole atmosphere of this alleyway. It was 60 foot long.
Of course the Bus acted as a catalyst. Same with the van. The van would roll up and we'd have all these paints and people would want to get involved. 'Can we help you, Mister?' We thought of a way to get people involved without teaching them to paint. People can spend years trying to learn how to paint. We made this stencils, so we could mark it up in sections. The design was developed spontaneously rather than following a preconceived plan. All sorts of age groups were involved. They were painted with both acrylic and exterior emulsion. We did it in one block of time, following on from one of the play schemes. These things usually developed from contact made during those play schemes. The alley was on the way to the shops so we were never short of comments and suggestions from passer-bys."
For myself I never saw them of being a sort of permanent feature. At the time I thought well, it doesn't matter if it lasts a year, but it lasted several. What really mattered was the moment people created that work, communication, the way people were talking to each other about it, the involvement of people, the camaradie produced by us being there with all these tubs of paint. All sorts of age groups were involved. It was hard work, but it was joyeous. We would take books and show them stuff, but we never tried to say this is how it should be done. We let it come from them, we didn't try to impose an art style. I suppose there was a style though, using blocks of colour, which was easier than trying to put in al the subtle detail of rendering a piece of a material and tones. It had to have an impact, so we did use brighter colours. It was like an organic process, it grew as the communication and the way in which we worked together."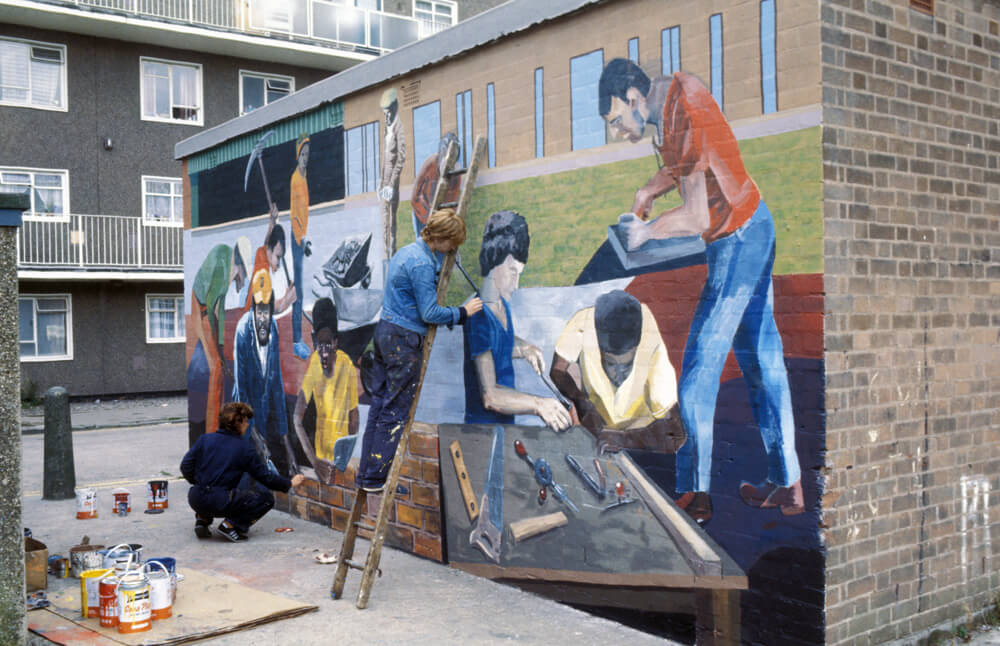 Sometimes the work Jubilee did was controversial, in that they were painting Black people and Asian people and they were prominent in the murals. Derek remembers some murals being graffitied. "One we did at Smethwick for a Community Action Project with artist Pam Skelton was immediately attacked, tubs of white paint were thrown over it. These things you had to deal with." There was the case of an exhibition looking at the Afro-Caribeean migrant experience, called 'Di Deh Yasso', with an image of the face of a black woman on the side of the Bus, which was graffitied while at the bus garage.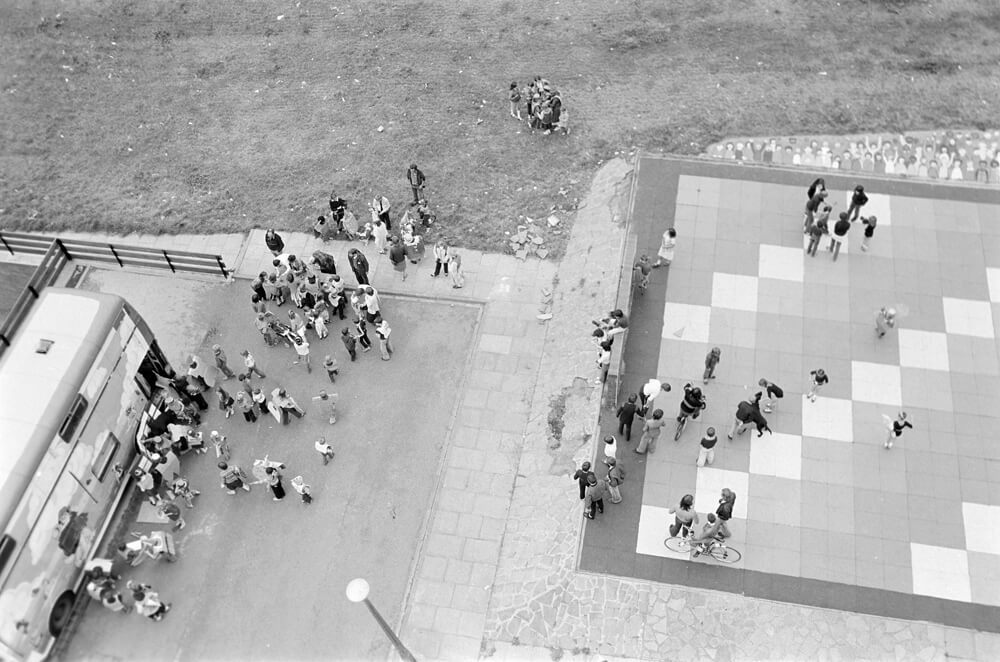 Kate Organ recalls that mural project could have a downside. "There was an infamous story that went all around the country. On West Smethwick estate there was an arts project there with Community Links and Mark did a project from Jubilee with them to paint the gable ends of the maisonettes. There was the family who had got the mural at their gable end and their cousins came from Coventry to visit and said to them, 'We can tell you're deprived, you've got Muriels.' That story more than ever galvanised those big questions about whether some of the interventions were about papering the cracks and prettifying something or were they purposeful interventions which change the power. These were the philosophical discussions of the time."
To alleviate this stereotyping, Jubilee also made floorals. This one, in Reservoir Road, Rowley, proved particularly popular. It was sited on a play area between several high rise blocks, the concrete flagstones providing a ready-made layout for a gigantic games board. The painting took place over just one week, with 20 kids involved. By the end of the week, the 'Bus Gang' had developed a whole range of games to play on the board. With the low walls at the edge of the play area also painted with goal posts and a football crowd, a basic kick about area was transformed.
As the Jubilee 1979-80 Annual Reports says: 'These murals show how play areas can be transformed from plain concrete to something magical. This has been achieved by children using colour, their imagination and enthusiasm.'
Super 8mm footage of the 'Chinese Playground' at Windmill Lane, Smethwick –  the location for a play scheme to create a mural over two weeks.