During their first years, performance tours to playcentres, pubs, old people's clubs (as they were called then) and housing estates formed the core of Jubillee's programme. This 'strolling theatre' was poplular and in demand. 'Travelling show packs them in' said the Express & Star in 1976. 'Send in the clowns and end boredom,' said the same newspaper in 1978. That same year 'JUBI-LATION' was the headline used for an article about their pub show 'Would Jubilee've It?' In a follow up article announcing another 20 dates in July, the Star proclaiming it to be 'an hour of lunacy for old folk'. This particular show had a cast of three but more than three characters and was made up of jokes, sketches, stunts, songs and magic.
As befitting a theatre company, each year Jubilee devised an 'adult play', a performance piece which toured to venues such as pubs, community centres, Age Concern clubs and church halls. In 1975, they first devised a pub show based on the story of William Perry, the Tipton Slasher, a 19th century barefist champion and local hero. The songs and music were by Victoria Wood (who played on piano), who helped with a few other plays, and went on to a stellar comedy career in television. Almost every night the group were asked to stay and talk to members of the audience, some of whom were distant relatives and others who had stories in their families for years concerning the Slasher's exploits.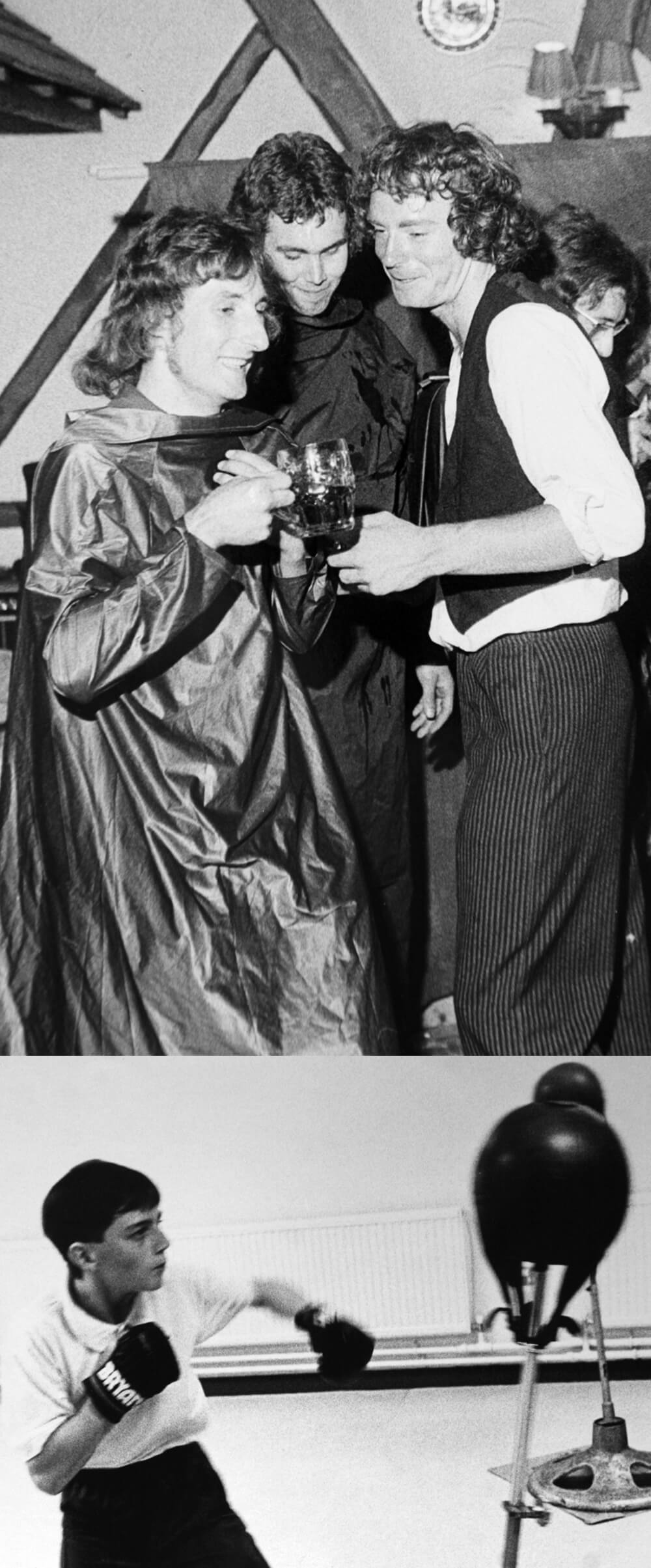 Intro Song
STOP what you're doing,
We've locked the doors, so none of you can go.
We've something to show you,
This is the Tipton Slasher Show.
It's moderately exciting,
In places, even funny,
We don't care if you hate it,
S'long as we get your money.
So stand by your beer mugs,
Ready for the Tipton Slasher Show.
My name is Chrissie,
I was supposed to be the star,
They wouldn't let me,
So now I play the boring old guitar
We're the Diggum-Uppers,
Grab people when they're gone,
We'll tell you about it later.
-They've got a whole song later on:
Typical! – Thank you.
All part of the Tipton Slasher Show.
My names Virginia,
All the things they say about me are quite true,
I'm a wonderful actress.
– She plays the parts that no one else will do.
I'm the Slasher's agent,
This boy is heaven sent,
He's so bloody stupid,
I'm on ninety nine per cent.
What did you say? Nothing.
All part of the Tipton Slasher Show.
I'm the Dudley Devil,
Magician, card sharp, poet, everything;
In fact, I'm really brilliant.
The only thing that he can't do is sing.
I'm the Tipton Slasher,
Me might fists go crunch,
I made a joke up yesterday,
Me favourite drink is punch.
I've just though of another one;
Me box comes in me lunch.
All part of the Tipton Slasher Show.
We hope you like it,
We looked at you, you looked at us.
Now we must leave you;
Ever tried to get a coffin on a bus?
It's time for our departure,
They've just announced our flight,
It's the closing of the curtains,
And the dimming of the lights
So from here to him to you to me
From them to us and him to you,
From me to them and Aunty Glad, goodnight!
Local and familiar stories, replayed with some humour and with panache, which reach wider audiences. In the 19th century the Black Country had been mined for its minerals, wealth extracted from the very ground beneath our feet. Now these cultural activists were unearthing a rich new vein. In later years, Steve Trow summarised this approach: "Local art is a worldwide activity. In its many local forms it embodies the common values of the smallest community. This local experience has a potency and a resonance of much more than just local significance."
Jubilee took its inspiration both locally and further afield. Kate Organ: "We'd go to these other community arts conferences and discover what other people were doing and we'd go that's a good idea, let's do that. We just picked it all up. There's a story to be told about who were the other organisations and people that we were drawing our thinking and inspiration from or sharing with. We were very interconnected across the country. We knew what they were doing in Devon and Islington. It wasn't just play, it wasn't just drama or visual arts, it was incredibly eclectic. We went on BBC Pebble Mill at One to demonstrate how to make to make inflatables. We got that from Jules Dunn and Barry Colman at GASP in Birmingham. We all had our own interests of what we brought with us and each person that came brought another thing. Us founders were completely drama based, nothing else. Chrissie came with the massive background of having worked with Ed Berman and Interplay in Leeds. Steve Trow and I were more aware of what Graham Woodruff had done in France with the car workers and the much more radical, political adult stuff. Telford Community Arts had just been established and we were incredibly interested in them – they were like the really hardliners. In 1977, we had a classic TIE project in schools at the same time as we were doing the Boal stuff with social services and then there was the popular pub theatre that came from our love of and an interest in Ken Campbell. Terry Johnson the playwright came and worked with us for one pub show and taught us how to do magic tricks and suddenly we did magic, then we'd teach children to do magic, and then that's where the circus theme came from. Anything that people were interested in, they just brought it and we did it."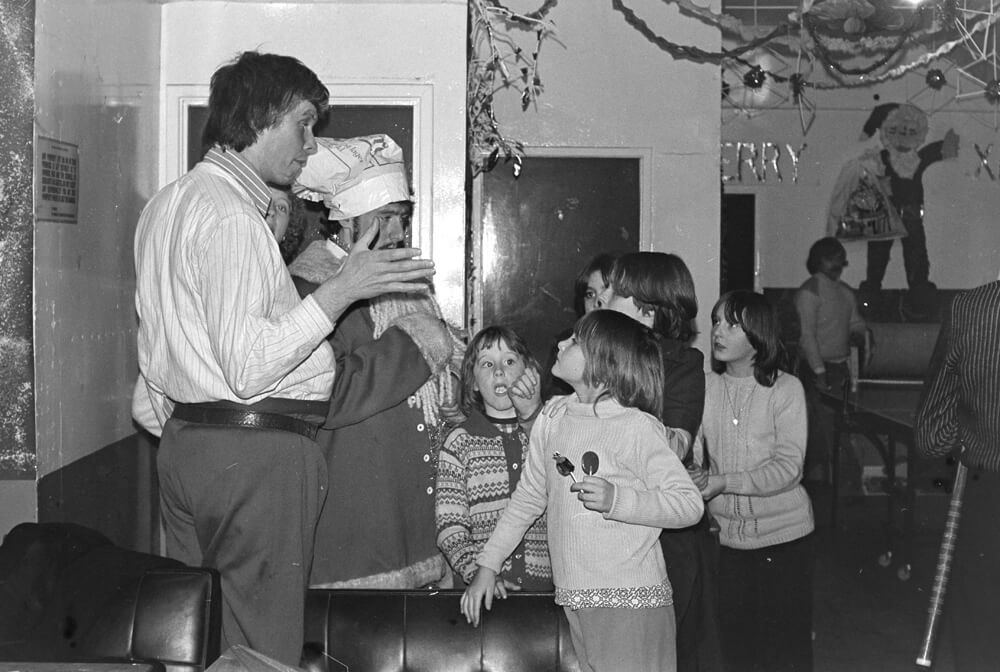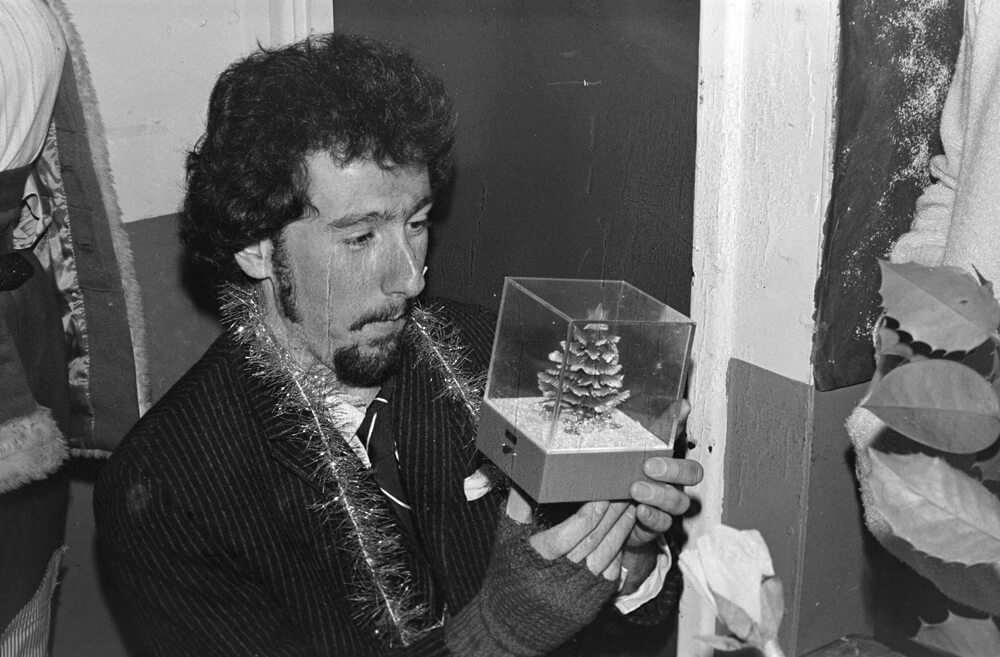 The magic variety show of 1977 was performed in pubs and clubs around the borough. That show opened with a musician, Chris Travers, dressed as if he had just stepped off the stage at the Conservatoire, playing an Irish jig on violin, which was slowed down 'so it sounded like an amazing lyrical classical piece', which he then gradually speeded up, something that stunned the audience and getting their attention. (You can see some of it documented on the film here). At Christmas, 1978, two members of the team, Steve Trow and Davie Purvis devised an improvisational piece around two tramps in search of a Christmas party, but this was to be the last of its kind.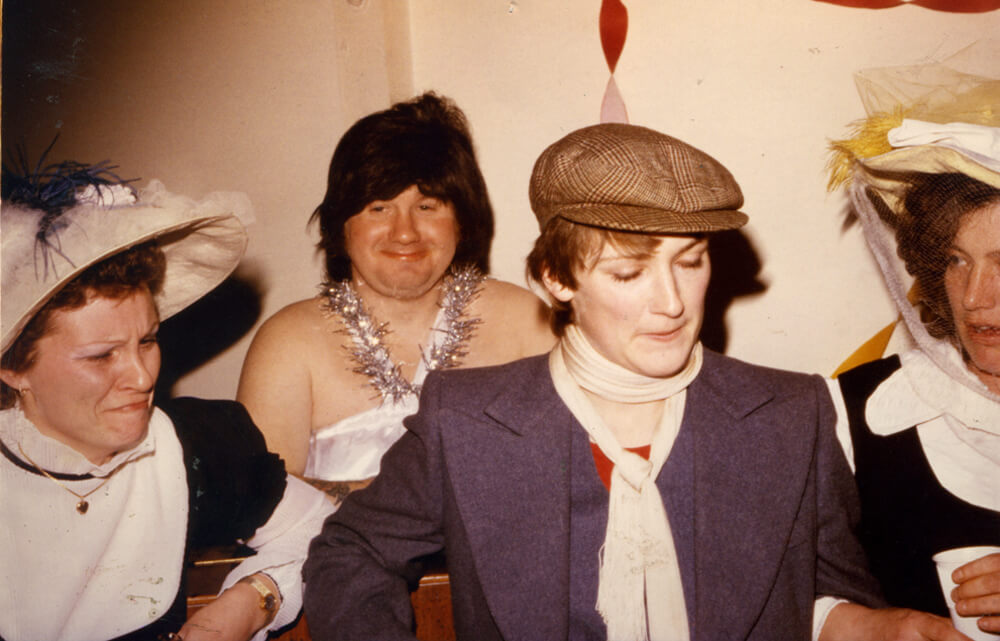 By 1979, Jubilee made the decision that: 'Tours in 'blocks' of 4 weeks or so will be discontinued and performance work will be devised and prepared in such a way that one of two members of the full-time company, with the help of occasional personnel, will be able to respond to demands as and when they arise.' The intention was to use drama and performance as an integral part of work with other groups. Shows such as the Friar Park Follies (1979) and the Friar Park Panto (1980) arose from this decision, expanding the format to include performances with community members. These relationships were developed through work with the Friar Park Festival Committee and Manor Youth Centre, both of whom had been involved with play projects with Jubilee. The panto took the premise of Babes In The Wood and transferred to a local council estate, mostly in local dialect.
At this time, Jubilee were involved in setting up Sandwell Arts Council, initially providing most of the organisational support. This body was able to go on and organise community events and utlilise West Midlands Arts Touring Drama Circuit to bring in professional theatre work to Beeches Community Project, Abbey Tenants and the Nirankiri Mission in Oldbury. No longer would they simply send in the clowns.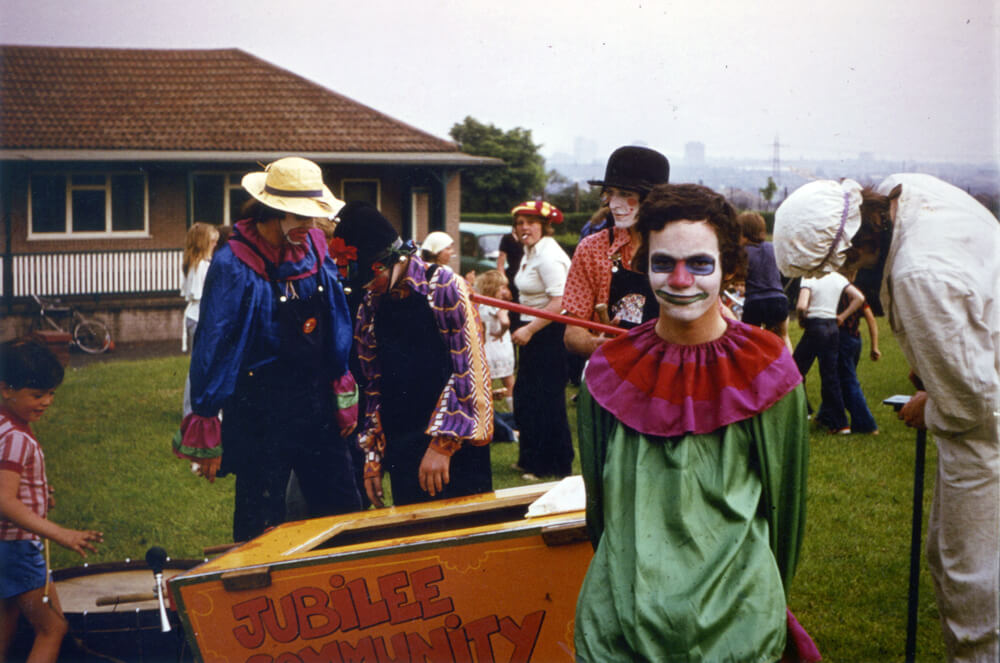 Although it appears the chap on the right is looking down at a mobile phone, they didn't exist at the time of this photograph. By the end of the '70's, these clowns would also soon be redundant.
Footnote: Victoria Wood first encountered Julie Walters (from Smethwick) in a show called 'In At the Death' at the Bush Theatre in 1978. She wrote a sketch for them both, then she wrote 'Talent' (commissioned by David Leland at Sheffield Crucible).  Julie Walters couldn't do this, though she was in the TV version on Granada in 1979. In 1980 they performed together in her play 'Good Fun' – also commissioned for the Crucible – set in a community arts centre. Kate Organ recalls: "Victoria came to visit when we had the bus at Friar Park. I remember showing her round the bus and saying to her, 'Well basically it's a flexible space, you can get these tables down and do clay work or turn it into a kitchen and make bread, you can pull this down and show film, you can do silkscreen printing, turn it into a darkroom, have a meeting.' We went to see 'Good Fun' and it was an appallingly hideously hilarious piss-take of all of us. This phrase 'Well, basically it's a flexible space' was a kind of catchphrase, and we were sat there with our heads in our hands. It was a farce really. It had a running thing about the puppet show and the puppet booth that didn't work and this was an actual thing that had happened at Jubilee and at the time we were tearing our hair out about it. The play was set in a community arts centre, not a bus, but everything else about it was us. Victoria was very aware of our work. The coup de teatre was the puppet booth arriving just in time for the arrival of the procession for the Women Against Cystitis rally. And then at the climax of the show, the puppet booth collapsed into smithereens on the stage and we were half amazed and half mortified about how we had seen our last three years of work ripped to pieces."
If you want a version of how it was in those days, the script is published by Methuen.