Archive reference: FP9/2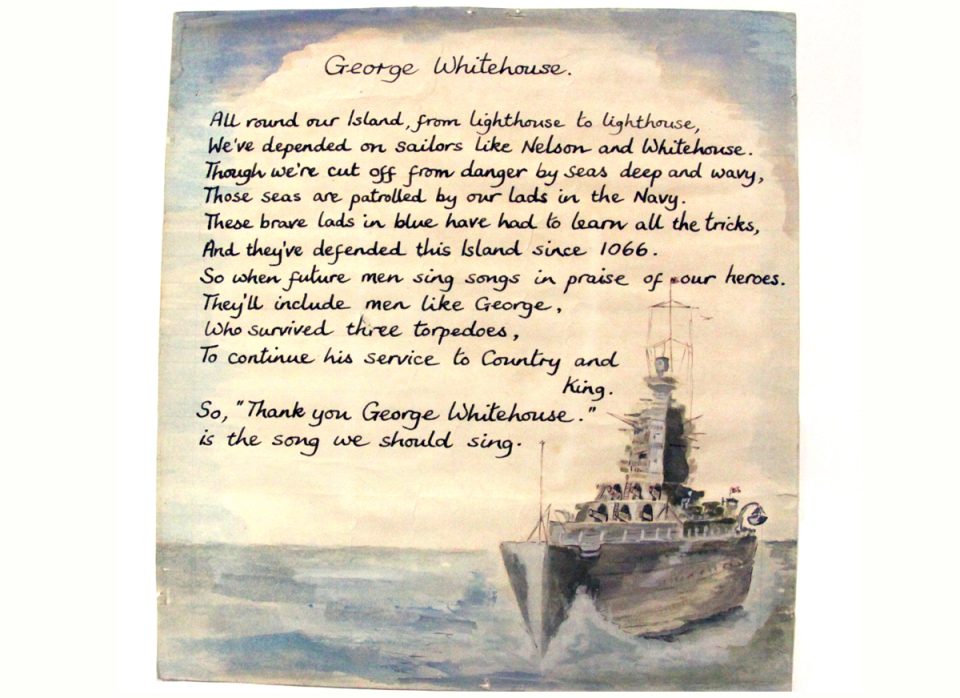 George Whitehouse was born in West Bromwich in 1916. He worked in the Reel Slitting Department at Manifolida Printing Works before joining the Royal Navy in 1935. As a Petty Officer in the Royal Navy he has been torpedoed more than once, losing all his kit. He had been on the Ark Royal for less than three weeks when it was sunk in the Mediterranean. In February 1943 he married Gladys Perkins, a licensed victualler, before returning to sea.
His papers include a fascinating diary of his time in the Pacific. In May 1945, he is in the Pacific aboard HMS Ruler, an aircraft carrier, anchored of Leyte in the Philippines. On Wednesday 9th the crew celebrate and he writes: 'V-DAY, the day we have all waited for. The Prime Minister announces the unconditional surrender of the Jerries. If there was ever a time I have longed to be home it is today. However, we have one consolation out here, 16,000 miles from UK, and that is our people in England are free from bombs and rockets, blackout etc. Surely the Japs will see the light now and give in. I give them 3 months from today. The main brace was spliced on board but the fight goes on out here without respite.'
George will continue to serve in the navy until 1957. In the 1980s he helped compile 'A Book of Remembrance' which records the names of all the men and women of West Bromwich who served in 1939-45 and can be viewed at the Central Library, West Bromwich. His story is included in a book produced by West Bromwich Local History Society, 'West Bromwich at War 1939-45', copies of which can be found in local libraries.