Archive reference: FP12/3/8
BS-AP/6/1 Accles & Pollock Promotional Material
BS-AP/6/1/49– "'Allo, 'Allo, Wot's This?" Poster, 1970. Final proof of a poster advertising the energy absorbing steering column.
BS-AP/6/1/51- Promotional Material for General Sporting Goods, 1970-1977.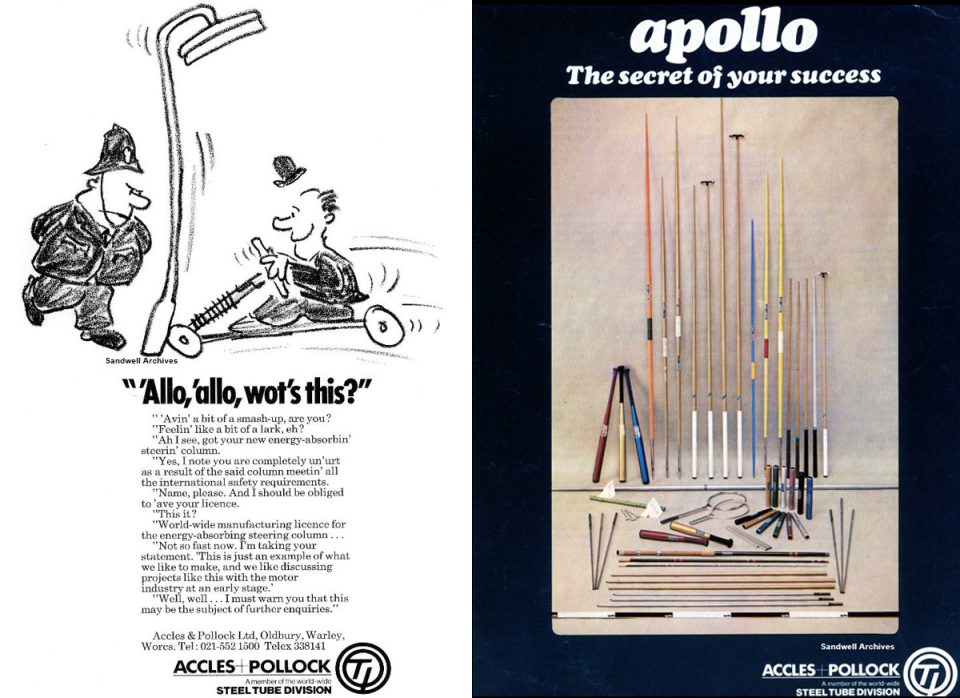 Formerly known as Accles Ltd, Accles & Pollock started in 1896 as a producer of cold-drawn steel tubing based at Holford Mill in Perry Barr, Birmingham. Financial backing from Tom Pollock led to 'Accles Ltd' being renamed as 'Accles & Pollock' in 1901, followed by a move to Oldbury in 1902. In its early years, the company was a leading tubing manufacturer for the bicycle industry, then branched out into products including aircraft, fishing rods, general sporting goods and cars.
The items pictured are among a collection of 600 items donated to Sandwell Archives, covering the company from 1898 to 2000. The promotional material is of particular interest, as the company integrated comedy, art, and a pop of colour into their work – be it through advertisements, brochures, or staff notices. On the left, BS-AP/6/1/49 presents a playful take on advertising, promoting the company's 'energy-absorbin' steerin' column' through the Black Country accent, while on the right BS-AP/6/1/51 offers sharp, clean visuals for their sporting goods.
– as selected by Georgia Bould, Archivist